Art of Women exhibit highlights female artists
Female AACC students displayed their art and discussed the importance of uplifting women during the Art of Women Invitational Exhibit in the Pascal Gallery on Thursday.
According to visual arts professor Dawn Bond the exhibit highlighted female artists due to their underrepresentation in the art world as part of Women's History Month.
"I do think that women are under-represented in galleries and museums," Bond said. "But within our own … college I don't think that that's necessarily the atmosphere."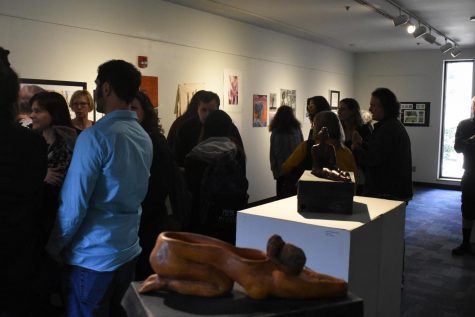 Second-year visual arts student Samantha Kent said she felt honored to be featured in the exhibit.
"It was a big honor, [and a] big opportunity," Kent said. "Then to see all the other [women] mentioned is just amazing."
The exhibit featured a range of artwork including sculpture, drawings, and photographs, according to Bond.
"It's really really empowering to see different women and … the different kinds of art styles," Kent said. "[Women aren't] just limited to one type of art there's multiple types of art [we can do], so it's a really big thing to see."
Second-year visual arts student Jess Gordon-Young said she appreciated the show's inclusivity and hoped for more gender-balanced exhibits.
"'I've seen a lot of exhibits, specially over in the Cade building … [and] number of them are predominantly male artists," Gordon-Young said. "it's nice to have an entire exhibit focusing on just what women are doing. I would love for more mixed [gender] shows."
The exhibit, which featured artwork from nine arts students and one alum, will run from March 2 to March 28.