Computer Science Club invite all students to join
The president of the Computer Science Club invited new members to join on Friday.  
Club members detailed their latest project, an Arduino Breadboard. 
"So mostly we are focusing on Arduino right now, building some Arduino projects," club president Martin Veloso, a third-year computer science student, said.  
Veronica Poquette, a first-year computer science student, said right now the club is "mostly working with the Arduino Breadboard. … the main project is the self-watering plants." 
Club advisor Wendy Chasser, a computer science professor, said the club uses products like the Arduino in their projects.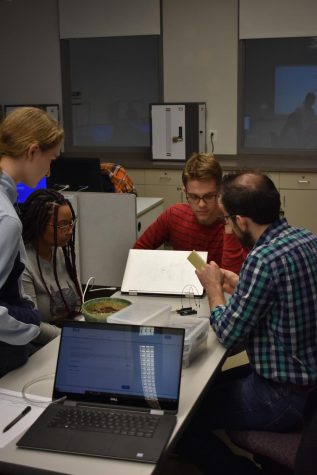 "We look at some specific technical toys, like Arduino, which is a little microcontroller," Chasser said. "We'll program Raspberry Pi's … we'll hook those up to our desktops and do some coding on that. We do some electronics with it, so it's great for engineer students too. We [also] play with drones."  
Club members said they plan to visit UMBC, UMD and revisit the National Cryptology Museum. 
"We plan to take another tour of the national cryptology museum, sometime this semester," Poquette said.  
Chasser said the club started approximately four years ago.  
She said the club "started out with just wanting to network and then just get together to do whatever [computer science students] want to work on."  
Chasser said any student can join the club, regardless of major.  
"It's geared towards programming even though you don't have to be a programmer," Chasser said. "You don't have to know anything about programming to join the club."  
Club members said they hope to see more women join the club.  
Poquette said that she hopes the club includes "more females, because we need more females in computer science in general."