Clubs host first Lunar New Year event
Students celebrated AACC's first Lunar New Year event Friday in the SUN Dining Hall.
The Korean Culture club, Japanese Culture club, and the Campus Board of Activities hosted and co-sponsored the event to promote awareness of other countries traditions.
"I thought it was a great idea because there were no [Asian cultural events] initiated that I have seen," professor Mea Lee, one of the main organizers for the event, said.
CAB diversity chair Yen Truong said the event helped promote other cultures on campus.
"It's very important to make diversity engagement on the campus," CAB diversity chair Yen Truong said. "I want [students] to know that there are other ways to celebrate new year."
Troung suggested the event last semester, according to Lee.
"Yen [Truong] proposed it right around Thanksgiving," said Lee.
Stands had snacks, lights, sweet tea made with orange, lemon and honey, trifolds with descriptions of how Asian countries celebrated the Lunar New Year and information on the zodiac.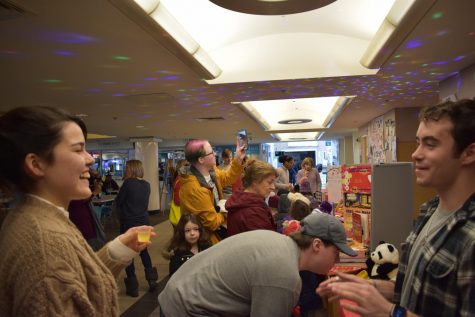 "I'm so thankful because the school is able to find a multitude of cultural snacks that are unique to Asian countries," Elizabethe Overton, a third-year psychology student, said. "We have brilliant display boards and information about the Lunar New Year and how it's celebrated in each country."
Clubs involved started planning the event around winter break.
Students said they enjoyed the event.
"It's really fun," Ryan Kim, a first-year computer and environmental science student, said. "There's the Korean side of things, there's the Japanese side of things, and there's the Chinese side of things and we have food that everyone likes."
"My first year at AACC I didn't go to a single event," Calvin Marzouk, a second-year architecture student, said. "I didn't go to a single club and I really missed that. I wasn't really aware that there were so many options and such cool people. … There's so many fun things to do."
The same clubs plan to host the event again next year.