See AACC dancers' practice pay off in "Spring Migration"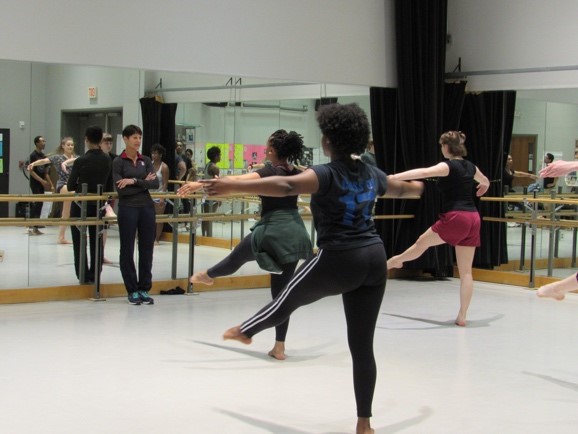 AACC's Dance Company performed a collection of original works collectively titled "Spring Migration" to a packed audience on May 3. 
This spring marks their 30th anniversary and they are performing two shows to celebrate. 
"Spring Migration" is also scheduled for 4 at The Kauffman Theater at 8p.m. and the "Alumni Concert" ran on May 4 at 2 p.m. 
Friday night's performance began with a jazz piece to the music of Benny Goodman. 
Lynda Fitzgerald, professor and dance company director, choreographed the opening piece which left the audience chuckling at the dancer's playful antics.
However, students helped choreograph most of the show.
Fitzgerald described the student choreography as "electric."
Dancers Devon Keim and Jamal Malik's "Yours, Mine and Ours" was a mix of styles as Keim tap-danced and Malik performed hip-hop to classic jazz music. 
The stage was well-lit as the two danced together and Malik twirled Keim in his arms.
Dancer Rebecca Jerlstrom wore a flowing white dress and her teammate Shawn Cook's body pulsed across the stage to the music of Jorja Smith singing, "So, take it how you want it…take all my love…" 
But not also dancers used traditional music. Chioma Akwara turned Aubrey Hamlin's spoken words into moving art. 
With "Just Another Statistic," student choreographer Aidan Jaschik turned music by Blink 182 in to a story of a daughter's anguish over her parents' fighting.
Dancer Niaja Diggs' piece "For My Sister" used stark red lighting to contrast against black costumes. 
However, some dances were less serious.
In "Spring Showers After Hours" Korie Gwynn-Carmichael choreographed as dancers tapped, as if playing in the rain, while twirling their umbrellas to a blue backdrop. When the blue turned to a warm golden glow, the umbrellas closed but the smiles continued and the audience cheered. 
Another audience favorite was "Black Curtain Vybez" by choreographer Chioma Akwara with its island rhythms, flowing movements and hazy yellow backdrop.
"Power" also excited the audience with silhouetted dancers performing against a stark red backdrop to Britney Spears' "Toxic."
The show concluded with Fitzgerald's "Perspectives" with its slow reveal from playful feet to swirling hands.
"We've been in rehearsals every day," explained Akwara. "We've been working on [cleaning our steps up] and making sure all our costumes are ready."
Their hard work paid off in a standing ovation from the audience. The performance was something many in the company said they had been working towards for years. 
"This is something I've been wanting to do since high school," added Jaschik. "I've been working full-time and I've got a house and a dog. I've been trying to get [dance] in, too."
Performers urge students and faculty to come see the shows again on May 4.
"I urge everybody to come out," said Lance Guillermo, a dance professional and instructor scheduled to perform in the alumni concert.  "It's …  such an eclectic show with different styles and different generations performing. It's great to see the growth and evolution of the program over thirty years and they will be able to see that in the show."
Other dancers agreed.
"This is … such an amazing show," added Madeline Maxine Gorman, another performer in the alumni concert. "There are so many amazing alumni coming back to the show, people who have accomplished so many amazing things. It's all due to Miss Lynda, no one encourages harder than her. It's … a fantastic show."
#