Student views photo, makeup skills as similar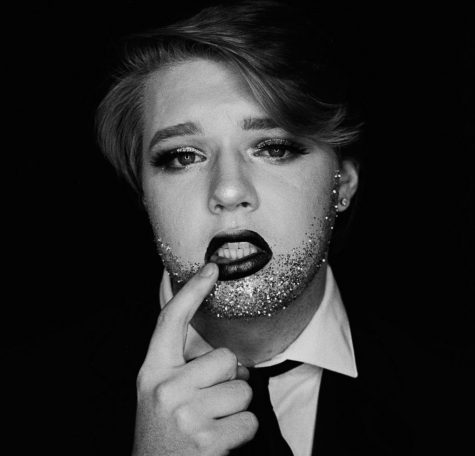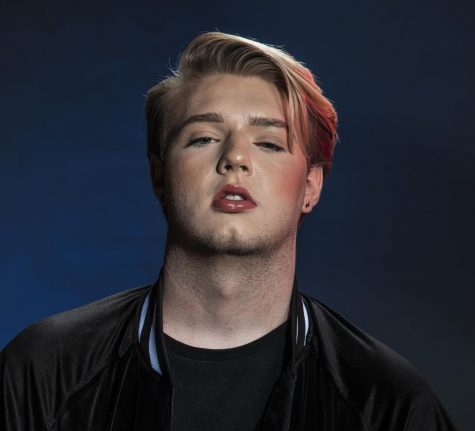 Zach Tennant tilts his model's rounded chin so she will face the warm glow of the soft amber-colored studio light he had set up behind his tripod, with his camera steady and pointed toward her plumped lips.
He zooms his lens slightly so her lips fill the frame as the rest of her face hides behind dim shadows. He plays with the position of her face and the lighting as she giggles, never looking directly into the lens. 
"You're doing amazing," he tells her, looking into her peached-toned lips as if they were her eyes.
He snaps the shot, which shows only those lips.     
The next day, he works with lips again, this time smearing lip stain onto a customer at ULTA Beauty in Annapolis, where he works part-time as a makeup artist.
The two jobs, he says, are equally artistic.
Tennant, 20, says he considers both photography and makeup application to be art forms. In fact, although he trades lenses and filters for brushes and pallets, Tennant says the two art forms are one and the same. 
What he learns in his photography classes about shapes and color theory, he says, he uses as he paints the faces of his diverse clients at ULTA, a beauty store.
"Instead of looking at someone's face and thinking of it as a face, I can think of it as shapes and really use that to my advantage," Tennant says. "When I look at an eyebrow I see … a triangle as the tail and a rectangle as the front of the brow."
He marries his two passions by frequently photographing the models after he makes up their faces.
Just as Tennant stages and edits his photos with an eye for the colors that his photography professors taught him complement each other, he chooses eyeshadow shades to complement his clients' eye color. The hues he brushes onto their lids, he says, are the opposite—on a color wheel—of the eye color to accentuate the eye's natural tones.
In both photography and makeup, Tennant says, "There is a lot you need to know how to do technically … before you can get into the artistry form."
In photography, for example, Tennant had to master the use of apertures and shutter speed. When he applies makeup, he says, it is important for the artist to understand how different products and formulas perform on a range of skin types or as part creating a desired look.
Plus, Tennant says, photography and makeup both require him to pay close attention to detail.
"In my everyday life, I'll just be walking around and I'll see a composition of something that is naturally occurring," Tennant says. "I recognize it as something beautiful. I see the world through a lens and crop things with my mind."
Although he began both of his artistic passions with an eye toward the natural, like landscape shots and minimalist makeup, Tennant says both his photography and makeup sometimes border on dramatic, depending on the emotions he's feeling while he's working.
For example, one series of photographs he shot called "Femme Boy" included images of his models wearing eccentric makeup work along with photo compositions to beautify the traditionally male aspects of the human body.
"I wanted to juxtapose the masculine figure with femininity," Tennant says. "It's like a hyperextended version of myself." 
Tennant came out to his family as gay in February 2014, and although he says, "No one else in my family is artistic whatsoever," his siblings have had transformative experiences with their sexualities as well. 
His sister Amy Horwitz is gay and his brother Jacen Draigaire is transgender. Tennant says his recent work focuses on gender stereotypes.
"It helps me know that his generation has that on their mind and they're using their passion and their artwork and their creations to put that out into the world," Draigaire says. 
One photo in the series, titled "Glitter Butt," features a close-up male butt painted with glitter.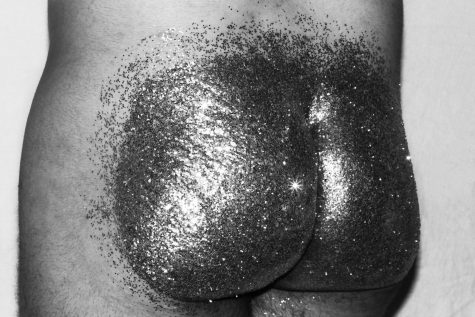 "I was taking the male form and juxtaposing it with feminine objects," Tennant says. "I took glitter and covered it on a guy's ass and it ended up being one of my favorite photos ever."
Matthew Moore, chair of the Visual Arts Department and former professor of Tennant's, hung "Glitter Butt" up in the department's darkroom and says it has gotten good reviews from passing students.
Of one student in particular, Moore recalls: "You could just tell that it made him happy to know that there were people like him … he connected with it."
Another shot featured Tennant's friend, second-year photography student Will Newton, who allowed Tennant to glue green brush bristles onto his face in the shape of a beard.
"He was putting it on with makeup glue and cutting it up really small," Newton says. "I was like, 'Zach, this is going to take forever to get off my face,' and he was like, 'It will peel right off, no big deal.'"
Newton says it took him three hours to remove the beard, so he asked for a copy of the print as a reward.
"His work is unapologetically himself," Newton says. 
"He doesn't care what other people think and he makes his work about what he wants it to be about," Newton says.
But in his makeup career, Tennant says it's all about what his clients, who range from young girls seeking a Halloween look to older women who hope to revive their youthful glows, want. 
About one client, Tennant recalls, "All she could say is she wanted her makeup to look like her husband wanted to get into bed with her. But those weren't the words she used."
However, Tennant doesn't only do makeup for his clients. He started applying it to his own face in high school, which ignited his love of the art form and eventually inspired him to do it for a living.
"I first got the idea that anyone can wear makeup because I was involved in theater," Tennant says. "I was doing tech. … I was very close friends with all the actors."
"I went to hang out with them while they were getting ready backstage," Tennant added. "I saw the male actors putting on makeup and I saw how good it made their skin look."
Tennant says his mother falsely assumed that because he did makeup, he wanted to be a drag queen or transition to a woman.
"It took some time to explain to her the difference between doing drag and wearing makeup casually. … She didn't understand that I was happy being male."
Tennant's mother, Peggy, says she has since come around to the idea of her son wearing makeup. 
"He is my son and no matter what I will always love him," she says.
"Now he is my go-to person. I tell him, 'Do my makeup like yours.' … I refer everybody to him," she added.
"He's really found himself," Horwitz says. "He is one of the most caring people I know."
CLICK TO VIEW FULL IMAGE
Horwitz says she views Tennant's photography and makeup as art, regardless of whether it focuses on gender stereotypes. 
She says his photographs that focus on gender roles "don't define him as a whole with photography." 
"I think he can do everything," Horwitz added.
Although he was unsettled by his son's makeup career at first, Tennant's father, Brian, says he has visited his son at work and is happy to see that he enjoys what he is doing in life. 
"He thinks I don't love him anymore, but I'll love him for the rest of my life," he says.
Tennant says aside from family, other men in the gay dating community have also resisted him for choosing to do makeup.
"I've had some guys I've gone on dates with and I mention that I'm a makeup artist and they are super turned off by it," Tennant says. "For some reason, don't ask me why, there is still a huge negative connotation with men being even a little ounce of feminine in the gay dating community."
"It really frustrates me," Tennant says. "You can't tell if someone is masculine or feminine just based on a dating profile."
However, Tennant's photography mentor and his manager at ULTA both say they support the work he does and the person he is.
One of Tennant's managers, Jamie May, agrees that Tennant approaches his art forms in a creative way.
"Zach is a very artistic person," May says. "He does things a lot with his guests that are very unique to him … very creative."
Moore has similar praise for Tennant's prints and personality.
"He puts a lot of energy into the detail of staging a photo. … It's not easy to stage photos," Moore says. "I see a lot of students try to stage photographs … and they fail."
"They just don't have the sort of work ethic to put all their energy into it like Zach does," Moore added. "His work makes people feel comfortable." 
"I hope his viewers take away a part of Zach," Draigaire added.