Breaking News: Shooting at Arundel Mills mall on Feb 16
At around 8:30 PM  Feb. 16, a shooting occurred at the Arundel Mills Mall, just minutes away from one of AACC's campuses.
Ayod Shuford, a second-year photography student, said his girlfriend who works at Zumiez heard a loud bang come from the direction of Modell's. After that everyone was confused but the store manager pulled down the gate to the store and told everyone to get in the back, he said.
"She also told me that the police knew about someone with a gun at the mall prior to the shooting but didn't respond to it because it 'wasn't a threat,'" said Shuford.
Shuford, who works at Medieval Times, said he texted his girlfriend right after he found out about the shooter.
Shuford wasn't the only AACC student at the mall when the shot was fired.
"I was at work," said Jesseca Greene, third-year game art and design student. "I was at the host stand at Nando's and I just kind of wasn't paying attention, and I looked to my right and there was just people running in a giant horde, in a stampede. It was weird. I was like, What's happening, and then somebody screamed, 'They're shooting.'"
 "When we talked to the security guards they told us there was a fight outside and a chair fell," she said.
"Yeah, a chair fell, totally," she said. "They were trying to make sure we didn't panic, because they didn't evacuate anyone, and the mall wasn't on lockdown or anything like that."
Greene said it upset her that the mall was not on lockdown.
Greene said the gate to her restaurant was halfway closed for 20 minutes before employees found out for sure there was an actual shooting.
"Where I used to live in Annapolis, people were getting shot all the time, so I was used to it happening, but I never expected it to happen at my workplace," Greene said. "I feel as though we should just be trained on how to actually lock ourselves down, because my manager didn't know what to do, and that made me really upset."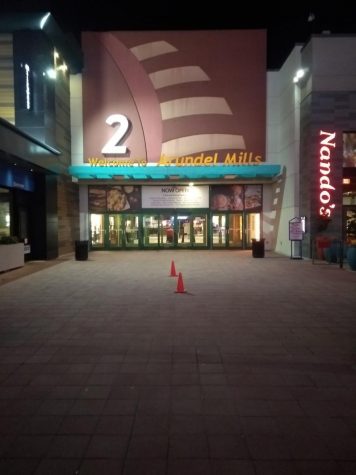 WBAL-TV quoted Anne Arundel County Police saying the shooting was targeted at a single person who later "walked into a hospital with non-life-threatening injuries."
AACC Officer Donald Medtart, who was on duty at the Arnold campus during the shooting, said campus police didn't get any reports about the incident and that the Arundel Mills campus had closed at around 5:30.
Medtart went on to say there weren't any officers at the Arundel Mills campus at the time of the shooting because "on weekends,  if there's no classes for a certain time, then the buildings try to get locked down and the officer leaves."
The campus is in a building separate from the mall where the shooting occurred.
Green said she is "not as spooked" as she was earlier.
"I'm just kind of like, 'Wow, I could have actually died,'" Greene said.
"Someone yelled 'gun' and everyone started to freak out," said second-year art student Sara Dollarhide, who was at the mall. "They told me and a few other people to just go into the back and just wait it out."
Check out the updated story here.
edits/ Feb. 17 1:47 a.m. -Added quotes from Ayod Shuford's girlfriend