Prof takes break, works on recording his music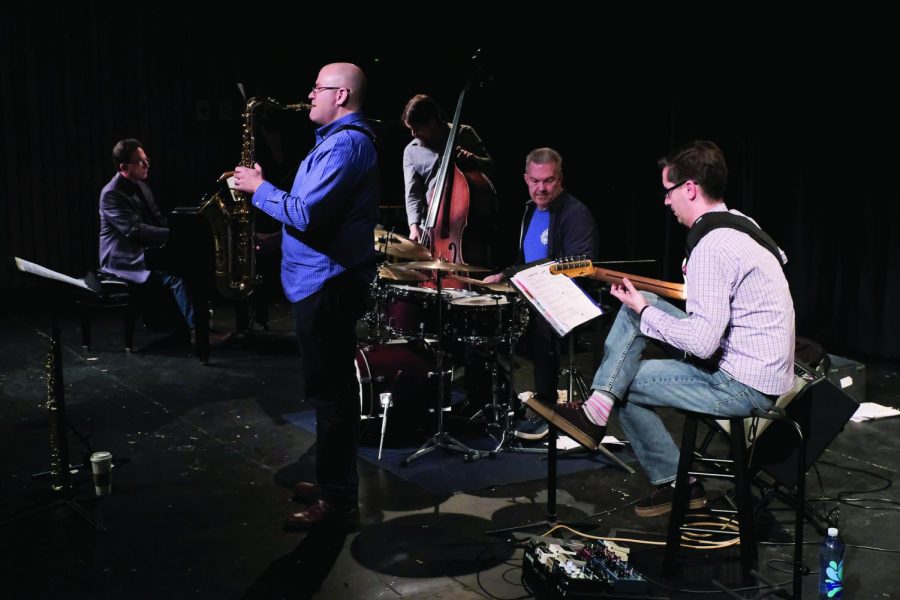 Ashley Sokolowski, Associate Editor
December 4, 2018
An AACC professor took this semester off to compose and record original music with his quintet.
Dr. Ian Wardenski, the chair of the Department of Performing Arts, has taught music at the college since 2004 and became a full-time faculty member in 2010.
"I have started, stop-ped, started, stopped over probably three years, and it's just getting to the point where it has to be completed," said Wardenski, who will return to teaching next semester after his sabbatical ends. "I have a number of compositions that are in the preliminary stages, and so [I am] using the sabbatical to complete those compositions, and then … I will be recording those compositions with my band."
The five-part band, called the Ian Wardenski Quintet, includes a saxophone, guitar, piano, bass and drums. Wardenski, who plays the guitar, described the quintet's music as chamber music with improvisation.
Chamber music is a type of classical music that is composed for a small group of instruments.  Its name comes from the fact that the musicians and their instruments are small enough to fit in a palace chamber.
Jerry Ascione, an adjunct instructor in the Department of Performing Arts, has played the piano for the quintet for three years.
"This has been enlightening; it's been challenging; it's been a joy; it's been a whole lot of things artistic," Ascione said. "It's been a real eye opener, an ear opener. Ian is … a tremendous musician and he really has a great understanding of composition, of form, of harmonic progression, melodic progression [and] development."
The drummer for the quintet, associate professor Frank Russo, said his favorite part of playing with the group is "the freedom to create your own voice in the music."
Tyler Dembinsky, a first-year transfer studies student, is taking a class with adjunct Timothy Powell, another member of the quintet.
"I think the fact that Mr. Powell is still active, still in this quintet now, I think that is inspiring," Dembinsky said.
Dan Baum, the executive director of public relations and marketing at AACC, took guitar lessons from Wardenski.
"Ian is very precise in everything he does," Baum said. "He listens very precisely. He makes sure your fingers are really precise, even the instrument he uses and chooses, the way he plays," Baum said. "He is a phenomenal teacher and that degree of detail and precision help."