Hawk's Nest grand re-opening
Hang on for a minute...we're trying to find some more stories you might like.
AACC's Hawk's Nest Grill & Deli promoted their new menu items, hot food bar and catering services on Sept. 13.
Due to the retirement of two former owners, Wanda Grace and Dan Gecher, the Hawk's Nest was taken over by outside food vendor CDL back in July.
The Hawk's Nest used Wednesday's event as a way to promote new menu items by giving out free samples, introduce their vendors and receive feedback from students.
They gave out samples of fries, veggie nuggets, lobster salad and veggie stir-fry.
"I think this is a great way to promote the new company," said first year early childhood education student Erin Smith. "Students like free things and it makes it seem that they care about student input."
When asked about the recent changes to Hawk's Nest students were supportive of them.
"I think the hot food bar makes things faster," said second year engineering Phillip Garvin said. "You can just grab your food, put it on the scale, pay and go."
Garvin also mentioned that he likes there are still the old grill items from the previous years.
Steve Pegg, the director of auxiliary services, said the new food bar and the company is "going really well."
Vendors like Pepsi was at the event introducing new drink items, that is new at the Hawk's Nest this year,  like Organic Gatorade and Starbucks DoubleShot Protein Coffee. They offered free samples of the two items and gave out different prizes.
The event was also a way for Secu, a Maryland credit union, to promote both their services and the new ATM's that are around campus.
"We've had a partnership with the college for a while but we're here to really help students build credit and help them financially," Jalisa Taylor a member adviser of Secu said.
The bookstore was there as well promoting their Amazon Price Match and new winter clothing.
The event included music, giveaways and a guest appearance from Swoop himself.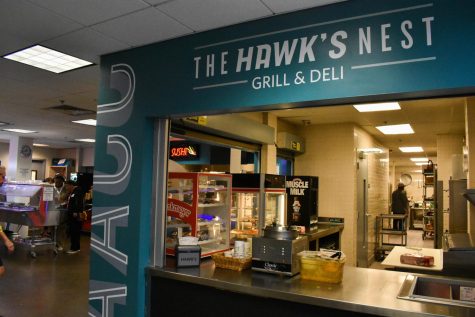 Photo by Sarah Alonso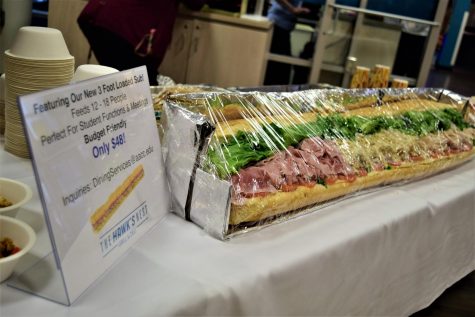 Photo by Raquel Hamner