Ceramics club hosts holiday sale
Students and faculty were able to do some of their holiday shopping at a ceramics sale on the Arnold Campus on Monday. 
The Holiday Ceramics Sale, which was hosted by the AACC Ceramics-Keramos Society, sold pottery donated by faculty members, and current-and-former students in the bottom floor of the Cade building. The proceeds from the event helps fund the club throughout the year for things like visiting artists or attending conferences. 
"It's always been a really a welcomed event that people look forward to every year," professor Sara Prigodich, coordinator of the ceramics program, said "And [it was] a great chance to get some really nice pieces of work at a good deal."
The sale was held for the first time in two years because of the COVID-19 pandemic.
"It's by far the best, the best sale anywhere in town for Christmas," ceramics student Liz Barrett said. "You just have an amazing time."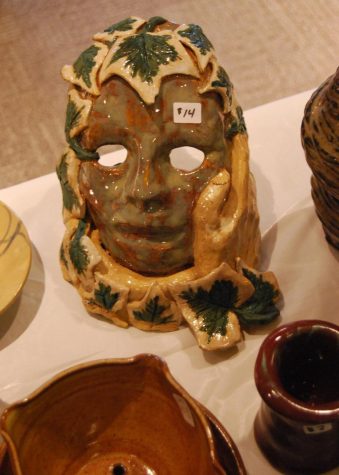 Some attendees said there was a collection of pieces that were made over the last several years.
"It was great to be able to do it again in person and … have folks come and get to see the things you've been saving up over the last few years," said Prigodich, faculty adviser for the Ceramics-Keramos Society.
Barrett said there was "a lot of dust."
Some students praised the opportunity to see what kind of ceramic pieces are made at AACC.
"I haven't been in a ceramics class yet so it is definitely exciting to see all the work that we can do in these classes," Annabel Furton, a first-year graphic design student, said. "My family is very artistic, especially even my boyfriend's mom. I'm sure she would love this stuff. I really love flowers, so I'm looking at flower vases. Really anything that stands out."
Some of the pieces at the event were sold in a silent auction. 
"[They] are things that people have decided, well, they're kind of special," Barrett said. "And so people bid on them and there's a silent auction."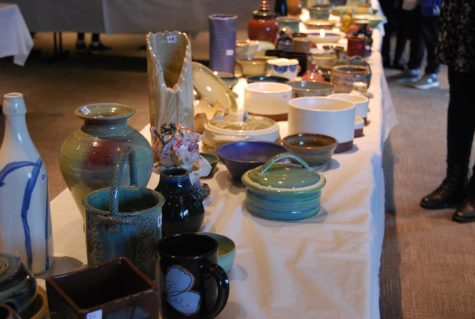 Many students at the sale praised the low prices of the pottery. 
"The prices are really great," second-year transfer studies student Will Mumf said. "I see some of these pieces that are, you know, five to $10. I'm like, gosh, you know, [at] Annapolis pottery and downtown, obviously it's a totally different structure, but … some of these pieces would be quadruple the cost."
Furton agreed.
"It's awesome. I'm a big fan [and] this was my first time coming."
Artist Susan Dodge, who is a former AACC student, said the pieces "are pretty low prices. But that's the goal is to put pottery, affordable pottery, in the hands of the community. [For] people who love pottery, this is a good way to be exposed to it and get some pottery into their arms. Which they otherwise might not if they go to some gallery, or it's completely unaffordable."
Barrett said some people might be reluctant to buy to art.
"I think some people are hesitant because they don't know what to get, you know, what's good and what's not," Barrett said. "And you know, the answer to that is what do you like, and what do you not like."
Ceramics tech Cassie Martin said the sale lets students learn about selling their work. 
"It's a good experience to learn to sell stuff, [and] learn the process, for sure," Martin said. 
Dodge said the pottery at the sale were in many different styles and made with different techniques. 
"It's fun to have the variety of types of pottery that many students bring to the program," Dodge said. "I'm thrilled that it's coming back and hope people will remember it for next year."