Nursing students meet on campus for face-to-face classes
Approximately 200 nursing, radiological technology and emergency medical technician students are meeting in face-to-face classes this fall on West Campus in Arnold. 
Health Sciences Dean Elizabeth Appel said most of the students were unable to complete required lab work for their spring classes because the campus closed in March as a precaution against coronavirus. 
"Our goal was to get the students back to campus to finish [their labs] so that they could graduate for national exams and then get jobs," she explained. "Many of our students had job offers and they just had to wait to complete the program." 
Appel said her department has decided to limited class sizes to 10 people.  
"We're trying to limit to eight students and one faculty member," Appel explained.  But "we [might] need a second faculty member to come in or sometimes a ninth student might need to come and make some part [of a lab] up." 
Appel said if students test positive for coronavirus, health sciences faculty will report it to the campus Health and Wellness Center. Staff there work with Anne Arundel Department of Health to determine if students in that class need to quarantine. 
"We get an email saying that student or that faculty member cannot come to campus at this time," she explained. "And then we get an email saying, 'Said person is cleared to come back to campus.'"   
Some health sciences instructors said they prefer in-person classes to teaching online.  
Beth Przybylski, a dental assisting instructor, said some skills, such making dental impressions require hands-on training.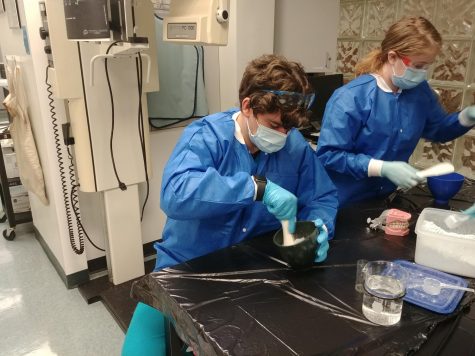 "It's important that our students are in class, especially for our dental assisting program," she said. "They need to be hands on."  
Assistant nursing professor Lisa Chamberlain agreed.  
"We're able to get the hands–on time with the students so they can make the connections between what they're learning in lecture and what they're reading, and then what they're actually going … to do on their patients," she explained.   
Some students said they are happy to be back on campus. 
"It's weird, because it's empty," third-year nursing student Natasha Seeger said. "But it's nice to be able to go into open lab and practice the skills needed." 
Fourth-year paramedic student Emily Brown agreed. 
"It's nice having not as many people [on campus]," she explained. "I feel like … if everyone was back on campus now, I might be a little nervous … just because I don't want to get sick."