Culinary students cook on campus
Culinary students are meeting face-to-face with their instructors on AACC's Glen Burnie and Arnold campuses this fall.
Hotel, Culinary Arts and Tourism Institute Assistant Director David Ludwig said 47 students in six courses are meeting face-to-face with their instructors this semester. For social distancing Ludwig said his department reduced class sizes from 16 students to eight. Students also must wear masks and gloves in the kitchens.
"We've been … trying to … create an environment where our students can continue to have a tactile learning experience," Ludwig explained. "and [where] they continue to … work on their trade and do the physical things that are part of the culinary and the baking and pastry programs."
Ludwig said two culinary students tested positive for coronavirus early in the semester, so the college shut down the on-campus class for two weeks. He said no other students were infected.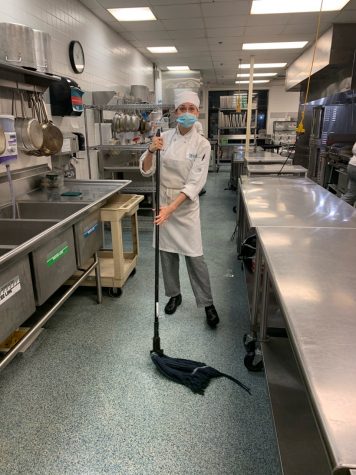 One of the students experienced symptoms but "everyone came back healthy and safe, and we're back into a safe environment," he said. "That's the good news. And I think that our precautions are really paying off."
Culinary faculty also have converted two introductory courses and two intermediate-level classes for online delivery.
Before the pandemic, Ludwig said, "We were actually making some preparations to create a couple of online courses, specifically intro-level courses that we were thinking about launching in a couple of years. So, it really updated … our timeframe."
Ludwig said the instructors of those virtual courses cover the same material as they would if the classes met in person.
"It's the same course just being delivered in a different format," he explained.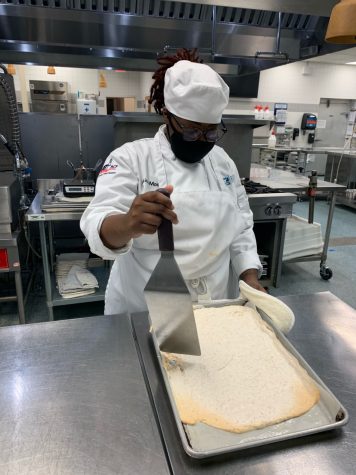 Chef Leo Dilling, an adjunct instructor who teaches International Cuisine on AACC's Glen Burnie campus, said he is excited to be back in the kitchen.
"It's quite a bit different, but it's doable," he said. "It's a little slower cleaning up just because we have to be a little more thorough and we can't do teamwork … to clean the dishes. But it's been working out well."
Some culinary students who are studying on campus this semester said they prefer that to online classes.
"I truly enjoy being in the kitchen at HCAT," second-year culinary arts student Jeanette Pesseh said. Although "the online classes give you the opportunity to cook within your home environment, … [it] doesn't give you that full interactive experience that you would have if you were on campus."
Patrick Snyder, a second-year culinary arts student, agreed.
"I would … rather [not take] online [classes]," he explained. "In-class is better for me personally for learning and experience."
Both said they feel safe being on campus.
"Good practices were put in place for the well-being of the student," Snyder said.