Pioneer baseball legend celebrates 44 years as AACC employee
AACC's director of auxiliary services has worked at the college for 44 years—and earned recognition for his longevity at a meeting of all faculty and staff at the beginning of the semester.
Steve Pegg, who played baseball for AACC when he was a student here in the 1970s, oversees the college bookstore, dining and vending services, and events.
"I think that's an impressive amount of time for anyone to work at one employer," Chris Wirth, the AACC Bookstore manager, said.
Wirth, who has managed the bookstore for eight years, has worked for AACC and with Pegg for more than 30 years.
"He puts in the work that's needed," Wirth said. "He knows what needs to get done and he's very organized."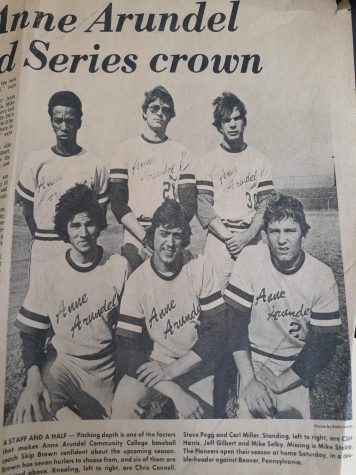 Pegg pitched for the Northeast High School baseball team in Pasadena and helped his teammates win a state championship in the mid-1970s. He was recruited by Coach Skip Brown to play for the AACC Pioneers and started working part-time at the AACC Bookstore in June 1976 when he was 17.
"He was a very good baseball player," Melissa Beardmore, vice president for learning resources management, said. "[Pegg] was working as a student worker in the bookstore and he basically never left."
Pegg accepted a full-time, salaried position as a customer service clerk at the bookstore in 1979. Over the years, he earned promotions to shipping and receiving and then to textbook manager, assistant manager and full manager. In July 2011, Pegg became the college's interim director of auxiliary services, and two years later took the job of director.
"I always want to be ready for the next opportunity," Pegg said. "I'm very interested in that."
Pegg said he has always been happy with the AACC environment and the people he worked with.
"[Pegg is] extremely knowledgeable because of his years of experience in the industry," said Denise Albrecht, a textbook buyer and the bookstore's shipping and receiving supervisor.
"[Pegg's] got a strong work ethic," said Albrecht, who has worked with Pegg for 25 years.
"[Pegg] is one of those guys that is willing to pitch in and do anything to make sure that whatever assignment or activity we're working on gets done," said Andrew Little, the associate vice president for learning resources management, who oversees Pegg's department. "I think it showed a lot when we were doing curbside pickup for students [in September] for textbook materials, [and Pegg] was the one that was out in the parking lot taking orders, running back and forth, and pitching in to make sure we could meet the student demand that had picked up."
Because of the large demand for textbooks at the start of each semester, "We knew we wouldn't be able to get stuff to students timely through just shipping alone, and so Steve was leading that effort," Little said. "He was there every day, going through the process and pitching in to make sure that it was staffed appropriately and that we were able to process those orders. I think when it all ended there were over 6,000 orders processed for the fall term."
Beardmore said she has worked with Pegg for 20 years and "I know him very well. I know how committed he is to the college and I know his commitment to our students."
Pegg calls himself a "summer guy." He said the older he gets, the more he hates winter.
Some of his hobbies include exercising at his home gym and lounging by the pool and at the beach when he visits Myrtle Beach and Clearwater, Florida.