Benefit Talent Concert for the Victims of Ebola
Thank you all for your support.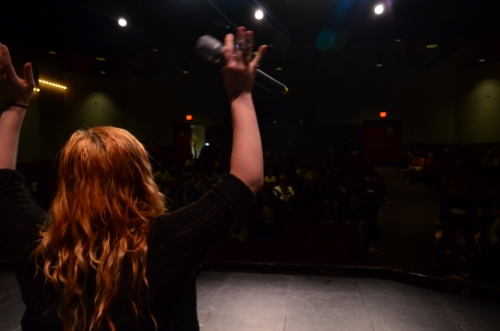 Campus Current is happy to announce that our benefit talent concert for the victims of Ebola sold out all hundred of our tickets last night and we raised $756 for UNICEF USA!
All of our proceeds will be donated to UNICEF USA in hopes of enhancing their efforts to bring relief to the West African countries that are suffering from the Ebola virus.
We would like to thank the dedicated performers that volunteered their time and talent to make last night possible: Sammy and Ben, Marcia Andrino, Derrick Credito, Sarah Oldershaw, Maddy and Will, Andrea Chambers, Sean Rad and Three Halves.
We would also like to thank Chris Storck of Student Engagement for her support, Stephanie Goldenberg for her wise counseling, Dr. Ben Kolee of Nimba County, Liberia for all of the information he made available to us, Henry Hali and Fatorma Bolay Jr. of Bolahun Worldwide for their support in helping us make this happen.
And last but definitely not least, we would like to thank every single member of the audience as well as everyone that donated but could not attend.
None of this would have been possible if it wasn't for every single person that indulged us in our vision from performers to assisters to the members of the audience, and for that we want to say thank you!