New strategic plan to focus on gaps in student achievement
AACC's focus for the next four years will involve increasing student graduation rates, particularly among minorities.
Dr. Mike Gavin, AACC's vice president for learning, said the college's new strategic plan aims to "eradicate achievement gaps" that prevent some students from finishing their degrees and certificates.
"Our goal is …to be getting students the credentials that they came to AACC for," he said.
The college tracks the number of first-time college students who enroll full-time at AACC and complete their associate degrees or certificates within three years. Among those who started in 2016, 28% finished within three years.
Graduation and certificate rates for black and Hispanic students were lower.
15% of black students in the 2016 cohort finished within three years, and 24% of their Hispanic classmates earned degrees or certificates in that timeframe, according to the college.
The numbers were higher for white students, at 31%, and Asian students, at 29%.
That leaves an achievement gap of 15% for black students and 4% for Hispanic students when compared with the total, Gavin explained.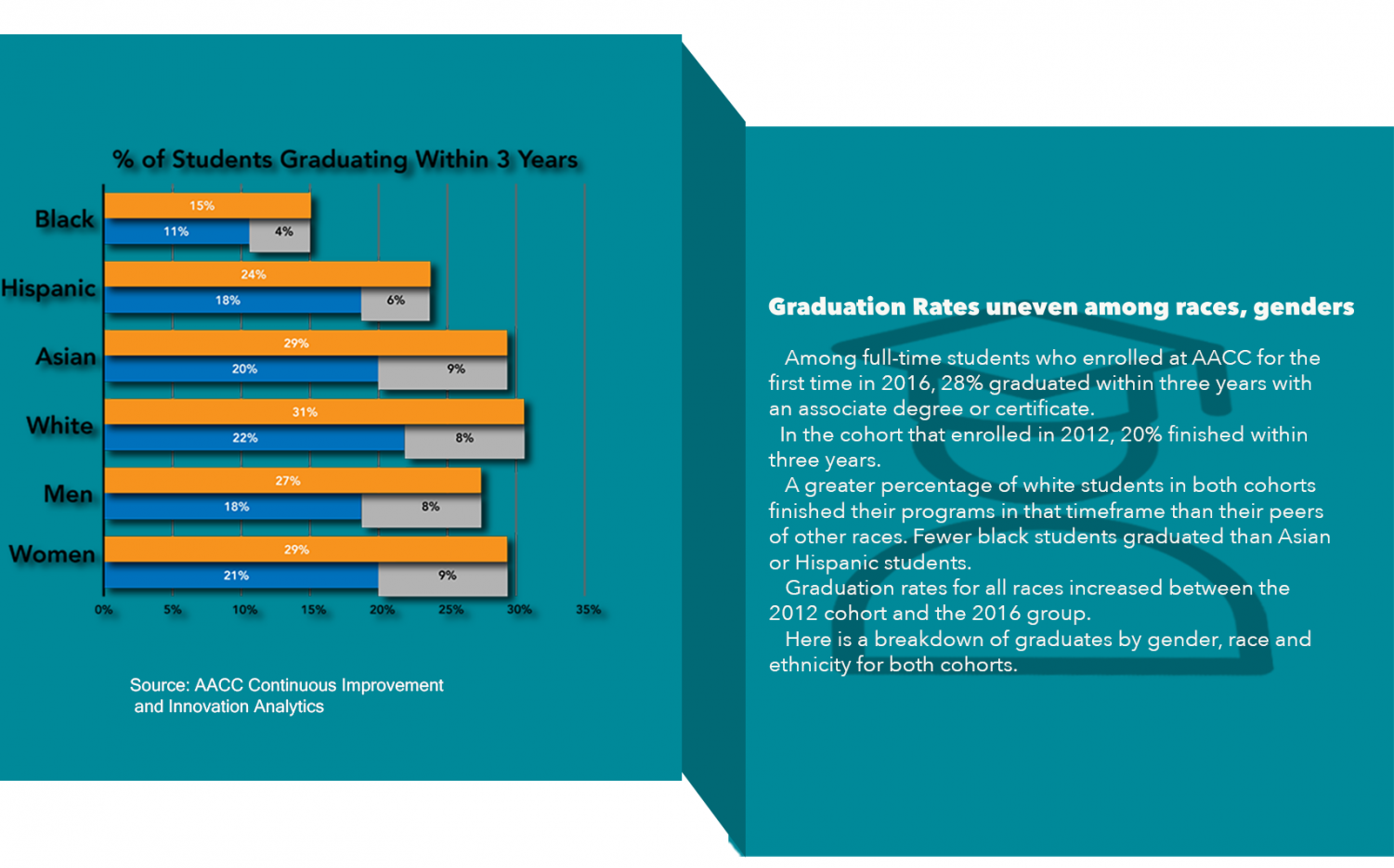 "We compare all races against the aggregate … and all genders against the aggregate, so if everybody's passing courses at 63%, and one race [or gender] is doing it at 75 and another is doing at 40, we have a problem," he said.
That problem exists, Gavin said, because "we live in a racist society. … America has been structured to marginalize certain identities, which you know has systemic problems throughout the entire society. And it impinges on the way that people think about their interactions with individuals."
The solution, he said, "actually matters, a ton, in terms of what happens in the classroom."
Faculty have developed "model" courses for some high-enrollment classes in an effort to make the instruction more consistent and equitable across sections, Gavin said.
He said faculty and administrators are working to reduce the cost of textbooks, improve students' access to bus transportation and consider students' "lives outside the classroom" in their effort to remove some barriers to graduation.
The solution to the equity gap, in large part, he said, boils down to "equitable practices in the classroom."
Some AACC students said reducing the equity gap is a good goal for the college.
"I feel like there's some things that, like, the community in general might be missing that … when you get to college, you're playing catch up on trying to fill it," Gerald Maravanyika, a third-year mechatronics engineering technology student, said.
Third-year transfer studies student Adrianna Gonzalez agreed.
Minority students "usually don't have the resources of, like, other groups," Gonzalez said. "I think the college does a good job of providing enough resources for students that need help, but … maybe it can be advertised a lot more."
One faculty member called the plan's emphasis on closing the equity gap "a great goal for the college."
"I think it's going to take a lot of effort to make that happen," math professor Stacey Nicholls said. "I think we as a college are going to have to really work together [and] perhaps research … some ways to do that."