Crime down but police stay busy opening buildings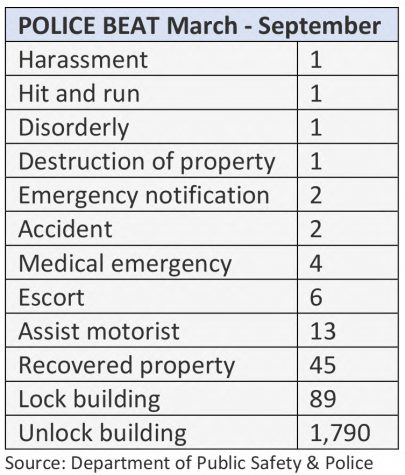 Between March, when the college shut down because of the pandemic, and the start of the fall semester, AACC police responded to two accidents, two reports of destruction of property, four medical emergencies— and 1,709 requests to unlock buildings for faculty and staff who needed to get to their offices.
"There are very few people here, and most of the buildings are locked down, so that stops a lot of the crimes right there," Police Chief Sean Kapfhammer said. "So, it's what I would expect the type of foot traffic we have on campus."
Police and public safety officers still do regular patrols, Kapfhammer said, noting for officers, "not much has changed. … They are still assigned to their posts; they patrol their posts and make sure that everything is in order. … In terms of significant crimes, that's barely nonexistent on campus."
Crime on AACC campuses is typically low, Kapfhammer noted. In 2018, for example, police logged 60 crimes on the Arnold campus, mostly involving larceny and disorderly conduct. 2019 numbers will be available this fall.
Still the chief added, the public safety officers take 30 to 40 calls a day from faculty and staff asking to visit their offices.
"We let them in so they can get [teaching] materials and things of that nature," he explained.
Some instructors said they left necessary materials in their offices when the campus closed down.
"I'm working on my promotion [to associate professor]," assistant nursing professor Ellen Asbury explained. "There were a number of things that aren't necessarily electronic that I needed access to."
English professor Jaquelyn Lyman-Thomas agreed.
"My entire teaching life revolves around my office," she told Campus Current. "All of my resources are there. A lot of times it's hard to tell at the beginning of the semester what resources you're going to need over the course of the semester."
Although most buildings are locked, Kapfhammer said the campus grounds are still open to the public.
"People are still allowed to walk about on campus during the hours is open from 6 [a.m.] to 11 [p.m.]," he explained. "If you want to walk your dog or walk around the track, people are allowed to do that."