AACC Board of Trustees gets 1st Hispanic member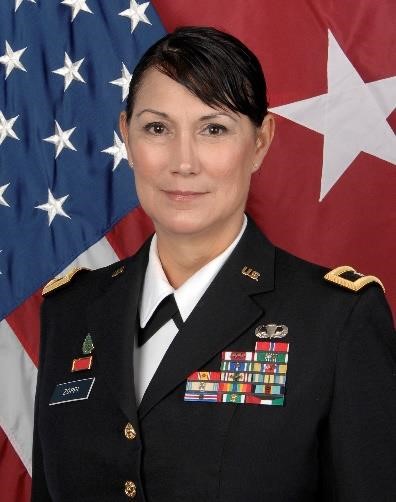 A U.S. Army Reserve general became the first Hispanic member of AACC's Board of Trustees in July.
Gov. Larry Hogan appointed Brig. Gen. Irene M. Zoppi Rodriguez, the director of the Army Reserve Engagement Cell, to fill one of two vacancies on the Board of Trustees. The board is composed of seven community members and one student member with full voting rights. Board members have final say on AACC policies and offer their advice to college administrators.
Zoppi Rodriguez, who served in Operation Desert Storm, said she wants AACC students to pursue their education dreams.
"I started as a private first class in the Army and I move[d] all the way to the rank of general with hard work and sacrifices,"  Zoppi Rodriguez, a professor and assistant dean at Strayer University, said. "But along the way, there were great people that mentored [and] guided me. And if I can do the same for [students] and be that example to them and [let them] know that they can achieve it just like I did, then I accomplished part of that dream."
AACC President Dawn Lindsay said Rodriguez will help the board from both an academic and leadership perspective.
"As a career military officer, she brings a wealth of knowledge about an audience we serve well — active military, veterans and their families," she explained. "[Rodriguez] is also AACC's first Hispanic board member, which is another important perspective she offers. The Hispanic community is the fastest growing demographic of the college."
Zoppi Rodriguez, a former high school teacher who taught Spanish at Largo High School, said she hopes to share her love of education as a board member.
"Education is the wings … for everybody at different levels," she said. "You can learn so much, mentally and … spiritually."
The governor appointed Kathleen Johnson, the owner and operator of Esther's Hair Salon in Glen Burnie, to fill the second vacancy on the board.
"I'm just trying to be supportive and just giving back [to the community]," Johnson said. And "just helping towards someone's education."
Johnson "provides a strong community perspective as a long-time business owner and community activist," Lindsay said. "As an African-American woman, she will no doubt offer insights into AACC's strategic commitment to increasing equity and inclusion and eradicating the equity gap."
The governor also appointed fourth-year secondary education student Briana Barone to serve a one-year term on the board.
Barone said she wants to bring a student perspective to the position.
"A student is going to be more honest," she explained. "It's really nice that the faculty and staff … know the students [and] know what students go through, but they don't know it directly from the student[s]. The perspective of the student is really important and crucial in … that sort of higher level of decision-making."
The Board of Trustees meets on the second Tuesday of every month at 4 p.m. via Zoom.