Classes in first summer term to remain online as campus closes for remainder of spring
All AACC classes will remain online at least through the first summer term, a college vice president said this week.
The announcement came as the college said it would shut down all of its campuses for the remainder of the spring and postponed commencement indefinitely because of the COVID-19 pandemic.
"At least for the first part of the summer we know that we will continue in [an online format]," AACC's Vice President for Learner Support Services Felicia Patterson told Campus Current. "It looks like we're going to be working through the issues related to this coronavirus probably [through] the beginning of this summer."
Patterson said the college has not yet determined whether the other two summer terms would be online only.
President Dawn Lindsay announced in a March 25 email that all AACC campuses will be closed through the end of the spring term.
The library and bookstore on the Arnold campus will operate online through the end of the term, according to Lindsay.
The college will allow faculty members next week to retrieve supplies from their offices that they need for their classes, but after that, office visits will require supervisor approval.
Biology professor Tammy Domanski said the college made the right decision in closing the campus.
"The administration … is putting the safety of faculty, staff and students first," Domanski said.
Second-year transfer studies student Steven Clark said having classes online may diminish the experience of taking them.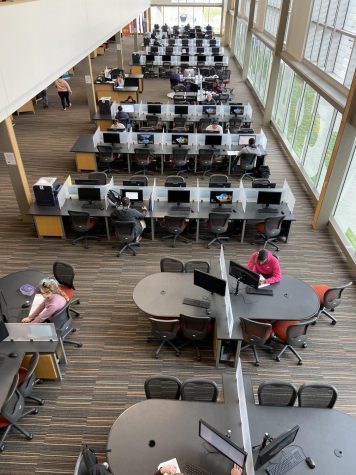 "I understand the reasoning behind all of these decisions, but at the same time it is somewhat upsetting," Clark said. "I'm taking several science courses this semester which will include labs and [that] hands-on experience. … It's a bit difficult to get that experience or decide whether or not that that is something I'd like to pursue in the future [while taking the class online]."
Clark said he hopes he will "get a refund for these lab fees that I paid for."
Second-year communication student Erica Short said it may take some students extra time to adjust to online classes.
"I'm already taking a couple of online classes," Short said. "For some others who have never taken online classes, I'm sure it's going to be really difficult."
Academic literacy professor Forrest Caskey advised students who are moving to online classes to create schedules.
"Create your own schedule and routine in terms of the things that you need to get done in life such as school," Caskey said. "When there is a drastic change in people's lives … school becomes sort of a backburner type thing, which it should be [compared to COVID-19]. But I just want [students to know] that we are there."
Dr. Danny Hoey, assistant dean for English, literacy and communications, said students should stay in close contact with their professors.
"Make sure you keep in contact," with professors, Hoey said. "Ask questions. Don't be afraid to say, 'Hey, can you help me?'"
Vice President for Learning Mike Gavin asked faculty to respond to student emails within 24 hours.
Hoey said students can still take advantage of resources such as the writing center and academic literacies lab, even though they will be online.
Lindsay also postponed the commencement ceremony, planned for May 21, until further notice, though graduating students will still earn their degrees and certificates.
Second-year film-studies student Athena Arnold said she is disappointed that graduation will not take place in May.
"I don't appreciate that because I am graduating this year, and this is the only time that I would be able to walk because I'm not going to a four-year school," Arnold said.
Short said she felt upset after seeing the announcement.
"I was supposed to walk [at commencement] and I was really excited about that and I'm pretty disappointed that it's not going happen anymore," Short said. "I'm really just disappointed that I just don't get to have that experience and celebrate my accomplishment."
Lindsay also moved the start of fall registration from April 14 to June 1.
"We really wanted to be thoughtful about giving students a bit more time to consider what courses they would need," Patterson said.
Spring withdrawal dates moved to May 1 for 15-week classes; to May 5 for 13-week classes; and to May 8 for eight-week classes, according to Gavin.