Faculty and staff celebrated at SGA event
The Student Government Association honored AACC employees at the Faculty and Staff Celebration event in Cade 219 on Friday.
According to Ryan Kim, the SGA's Vice President of events and initiatives, the celebration was made to honor the work staff and faculty members do for students.
"The teachers are really nice," Kim, a first-year environmental science student, said. "They always teach a lot. And the staff; they make this whole place work."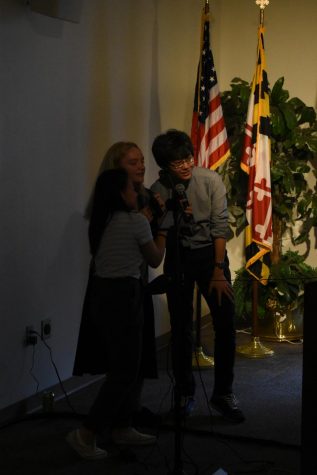 SGA President Mitchell Santos said the event served "to celebrate our faculty and staff that work hard year-round to provide us a good education."
Kim said he initially planned the event in conjunction with Teacher Appreciation Week in May but moved it up due to final exams and scheduling conflicts.
"I was just looking at [doing an event for] Teacher Appreciation week," Kim said. "But dates got pushed back so we just turned it into a giant faculty and staff event."
Instructional specialist Steve Berry said he appreciated the event.
"I think this is an awesome event," Berry said. "It is heartwarming for the students to think of us in this way [and] to want to appreciate us."
Virtual Campus instructional design manager Jennifer Bopp said she enjoyed relaxing with friends during the celebration.
"It's great to see faculty and staff come together," Bopp said. "It's uplifting and a great way to start the weekend."
The celebration featured events throughout the day employees could attend including a nature walk, yoga, instructional painting, and karaoke.
"I guess I would encourage everyone to appreciate their teachers, because they do a lot," Kim said. "They plan out the whole curriculum and … the staff makes this whole school run."