Students learn life lessons at 10th annual Black Male Summit
African-American students received advice on how to further their careers, overcome hardships and improve their lives at the 10th annual Black Male Summit in CALT 100 on Friday.
The event, organized by Reginald Stroble, the assistant director of the Student Achievement and Success Program, featured four speakers giving advice to the black audience, composed of students and faculty members.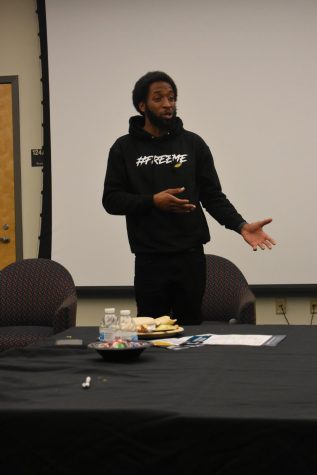 Keynote Speaker Ernest Robinson, a U.S. Marines veteran, said students should understand what their value is and persevere through struggles.
Robinson told students to not "allow for the small things [to] hold you back. Be noble. Do the right things at the right time for the right reasons. Empower yourself through education, but also through educating others. Be strategic in your life, be tenacious and … believe in yourself and understand your value."
Other speakers included Timone Brown, a former football player who spoke on how he overcame challenges in his life and told student how to overcome theirs, Dr. Shedrick McCall, a Virginia State University professor who spoke on the intersection of mass incarceration and mental health issues, and Dwayne Bennett, who told student of a former slave named Henry Box Brown who shipped himself in a box from Richmond, Virginia to the free state of Philadelphia.
A question-and-answer segment followed after each speaker.
Along with this a panel of two entrepreneurs, Louben Repke and former AACC Ratcliffe scholar Na'Quan Willet, told students to take advantage of resources when looking for startup money, such as AACC's Ratcliffe Scholarship, and to connect with potential mentors using SCORE, a free resource which connects small business owners with retired executives.
Robinson said he learned from the many views shared during the event.
"I feel like I learned … there are different perspectives on what it means to be a black male," Robinson said.
Students said they enjoyed the event.
"I would definitely come again," David Odi, a second-year computer science student, said. "I think it's really eye-opening and it offers a lot of insight to a lot of people that don't have a lot of direction in what they want to be doing with their life."
"It's great," Tyriek Knowles, a second-year communications student, said. "[To] just experience seeing black people having a sense of role models."