SGA hosts Meet and Greet Brunch
Students enjoyed free breakfast courtesy of the Student Government Association at the Meet and Greet Brunch on Thursday.
Student Government President Mitchell Santos said the event's goal was to introduce students to the SGA.
"This was a kind of a joint collaborative between Student Engagement and Student Government and also [the Campus Activities Board]," Santos said. "To try and get our executive board to meet the students, have the students meet us [and] be able to serve them by giving them some free food. We notice students always enjoy free food. It was kind of to give back to the students and do a meet and greet."
"I believe towards the end of the semester there's going to be a similar thing for the next student government executive board," Santos said. "We did this thing last year where we did free ice cream and also meet and greet. So probably something like that towards the end of the semester."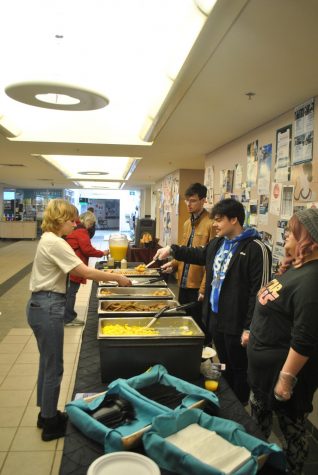 "Student Government Association is always looking for more people," Santos added. "We have a couple spots open right now for senators and Campus Activities Board is always looking for people. Their meetings are from two to three on Mondays in SUN 102. SGA's are right after [from] three to four in the same room."
Second-year transfer studies student Cheyenne Nagel grabbed some breakfast.
"I'm loving it," Nagel said.
Nagel said there should be more events like this.
"Come to these events, you don't have to pay for food," Nagel said. "There's a lot of struggling students out there, so come. There's free food."
Second-year music student Yasmin Souada said she enjoyed the event.
"Free breakfast? Yeah," Souada said.
Santos said that he thinks a good amount of students got food.