Ring Road opens up, construction continues
AACC reopened Ring Road in January.
Ring Road had previously been closed since December 2018 because of the construction on the Health and Life Sciences Building.
Jim Taylor, director of facilities planning and construction, said the road is permanently open—with a few changes. Construction on the Health and Life Sciences Building will finish in summer 2021.
"We extended traffic [on Ring Road] going two ways a further distance," Taylor said. "Before, you would have only been able to go one way and been routed through C lot. All that's changed now."
The changes include the reopening of Ring Road off of College Parkway near the various sports practice fields. Drivers can make a left turn immediately toward Lot D and continue driving in that direction until they reach Lot C. That part of Ring Road is open for two-way traffic.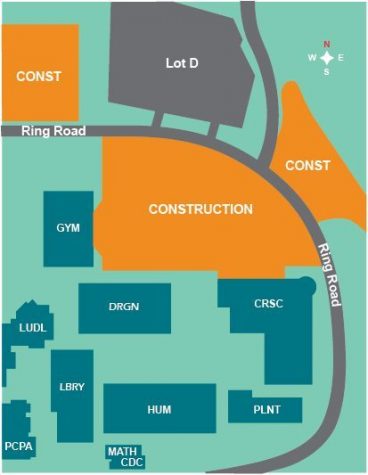 Lot C, which drivers were using as both a parking lot and a detour while part of Ring Road was closed for the past year, has returned to how it was before construction began.
Drivers can find maps on the AACC website to help them navigate the new traffic route and construction areas around the campus.
A new parking lot will open north of the gym when the Health and Life Sciences Building is finished.
Students have complained that parking was hard to find over the past year.
"Last semester I had to park further just because a couple parking spots were taken so it took me a little bit longer to walk to class," first-year nursing student Jasmine Young said.
But others said they are "excited" for the new building.
"It's kind of exciting in a way," second-year transfer studies student Quaid Chaney said. "You see all the commotion going on and it's a big new building. I can't wait to see what it looks like when it's done."
Young added, "Yes it is exciting. I am a nursing student and it is going to be a nursing building."
Taylor offered some advice to long-time staff members and students.
"If you are a staff member, faculty member who's been around here for a while it is different," said Taylor. "Slow down, pay attention; it's a little different."
AACC posted signs across the campus to help commuters adjust to the new route.