New Campus Current editor steps into role
Campus Current's former associate editor became the editor-in-chief of AACC's student newspaper in January.
Second-year journalism student Christian Richey, who joined Campus Current last summer, replaced outgoing editor Amber Nathan.
"I think Christian is going to be amazing and I am very proud of him," Nathan, a third-year communications student, said. "He was a very good associate editor and I am happy he is the one that took over for me."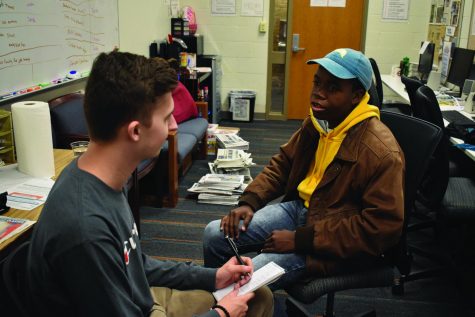 Richey, who lives in Annapolis, will lead the Campus Current staff and the production of the monthly print newspaper and its daily digital edition. He will also assign and edit stories.
"I am really honored to be given the opportunity to do this and I am kind of excited," Richey said. "I think it's going to be a great time."
Richey said he plans to increase the newspaper's social media presence and include multimedia elements, like video interviews, on the digital edition.
Richey also said he hopes to increase readership of the newspaper across campus.
Richey's colleagues said he is the best choice for the position.
"He's a fantastic writer, a good reporter with a very good sense of what's news," said professor Sharon O'Malley, Campus Current's faculty adviser.
Nathan agreed. "I think he's … very bold," she said. "He's very motivated and he really has a passion for journalism."
Richey said he plans to study journalism at a four-year university such as University of Maryland and to work at a large paper one day.