High number of AACC students enroll in USM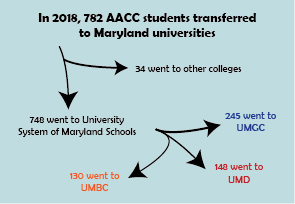 Anne Arundel County sends the fourth-highest number of students to University System of Maryland colleges compared with other counties, according to USM's chancellor.
More than 11,000 students from Anne Arundel County enrolled in the University System of Maryland this year—about 9,000 undergraduates and 2,000 graduate students, Robert Caret said in a column he wrote for the Annapolis Capital Gazette.
Caret said Montgomery, Prince George's and Baltimore counties have a higher number of students enrolled at USM.
More than a third of the Anne Arundel County residents who go to USM colleges transferred from AACC, according to Caret.
Last year, 748 out of 782 AACC students who transferred to in-state universities enrolled in one of University System of Maryland's 12 schools, according to AACC's website.
More AACC students—245—enrolled in University of Maryland's primarily online school, University of Maryland Global Campus, than any other USM campus. UMGC previously was University of Maryland University College.
University of Maryland College Park and University of Maryland, Baltimore County were the second most popular, with 148 and 130 AACC students, respectively.