62% of students side with Trump impeachment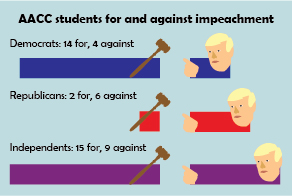 AACC students said in October they support the impeachment of President Donald Trump.
In an informal Campus Current poll of 50 students, 62 percent said they hope a congressional investigation of the president will result in his impeachment.
"I didn't want him to be in office in the first place but … they definitely should have impeached him before this time," second-year environmental science student Erin Hamner said.
The U.S. House of Representatives could decide to impeach the president after it investigates crimes he allegedly committed. If the House votes to impeach, the U.S. Senate must hold a trial and decide if the president is guilty of those crimes. If the Senate convicts him, Trump will be removed from office and Vice President Mike Pence will become president.
The House inquiry began after Trump reportedly asked the Ukrainian president to investigate former Democratic Vice President Joe Biden, who is running for president.
Trump said on Twitter the impeachment inquiry is illegitimate, calling it an attempted coup by Democrats.
"I feel like any president that's representing the country shouldn't be on Twitter, making comments about other countries," David Wilson, a third-year general studies student, said. "I feel like he [doesn't] represent the U.S. body as a whole well."
Samantha Biggs, a first-year transfer studies student, said she favors impeachment because Trump "speaks negatively against many people across the country, no matter who they are."
Still, 38 percent of students in the poll said they do not want Congress to impeach the president.
"I just don't believe that constitutionally he's really gone against [the law]," third-year communication student Samantha Agnor said.
Speaker of the House Nancy Pelosi initiated the inquiry.
"Seems to me like maybe he shouldn't have [asked the Ukrainian president for the investigation] but … you kind of need an actual footing to actually impeach him on," business administration student Jon Souders said. "Part of it is just they want to make him look bad for the upcoming election [and] decrease his chances."
The presidential election is Nov. 3, 2020.