Dogs learn to fly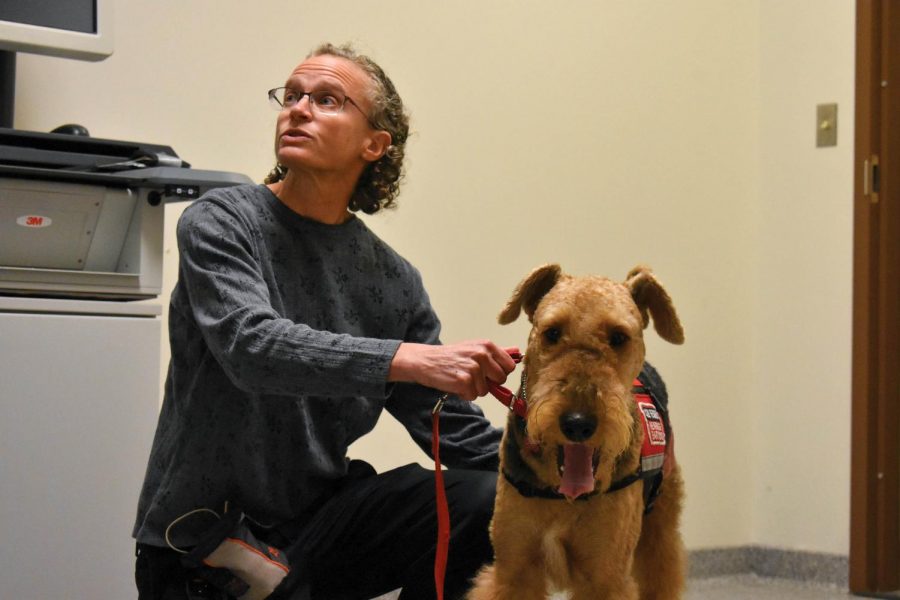 AACC Public Safety officers in October helped two faculty members with disabilities train their service dogs to go through airport security.
English professor Jessica Rabin and psychology instructor Denise Portis are both raising and training their own service dogs, and because they plan to travel in the future, they wanted their puppies, Caleb and Finn, to feel prepared.
"We both fly occasionally," Portis said, "but the last thing you want to do to a puppy is put them in a situation … that is so different from normal life. You want some experience ahead of time."
Caleb is a 10-month-old Airedale terrier, and Rabin has had him since he was eight weeks old. Finn is a 14-month-old golden retriever, and Portis has had him for one year.
Police Maj. Cleveland Smith and Police First Class Janene Kerpelman helped train Caleb and Finn.
"It's a familiarization for the animal so that the animal will get used to seeing someone in uniform," Smith said about the training.
Rabin said the training could translate to other situations, such as going through security screenings at museums, courthouses and the U.S. Naval Academy.
"Because they are puppies, we want to give them an opportunity to learn how to [go through security screenings] in a … welcoming environment," Rabin said.
"When you fly, you tend to be a little … anxious, a little stressed," Rabin added. "And you're surrounded by other people who are stressed and anxious. And that filters down to the dogs."
Rabin trained Caleb to help her wake up in the morning and alert her to sounds occurring around her because she has hearing loss.
Portis also suffers hearing loss, so Finn has some of the same duties as Caleb. But he also helps with Portis's balance disorder and neuropathy, a disease that affects her nerves and causes her to drop things.
Caleb and Finn learned how to sit still during airport security checks and started getting used to workers wearing unfamiliar uniforms.
The group and the dogs met in the Central Services Building for the informal training, which they did with makeshift tools. For example, Kerpelman used a radio as a pretend scanner to wave over the puppies' vests.