MD Promise funding still available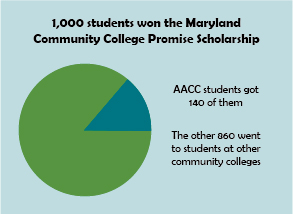 Students who are eligible for the Maryland Promise Scholarship but missed the June 17 paperwork deadline could still receive the financial aid this semester.
According to Shanna Kibler, AACC's assistant director of financial aid, students who already qualified for the grant but did not submit proper documentation may submit those papers now.
"There are still some students who submitted some of their documents but not all of them, and so [Maryland] hasn't made them ineligible," Kibler said. "They just need to do a couple extra things to finalize their eligibility. If they're [submitting documentation] at this point in time the state is still moving forward with awarding them."
Kibler said some students submitted the wrong documents—a tax return, for example, instead of a tax transcript.
The Maryland Higher Education Commission has awarded approximately 1,000 scholarships to community college students, including 140 at AACC, according to Kibler.
The scholarship awards up to $5,000 in aid to each student who wins it.
Kibler said the state has not identified a cutoff date for accepting documentation from students who already applied but whose paperwork is incomplete.
Of the $15 million available for the scholarship, the state has awarded approximately $5 million.
Students said the scholarship, which is new this school year, hs the potential to help a lot of people pay for their educations.
"I think everybody has a right to [an] education [but] some people don't really have a means of paying for it," third-year engineering transfer studies student Nicholas Lombel  said. "So, if you can help them out, I don't see why you shouldn't."
Second-year mechanical engineering student Landon Phan said the scholarship may help less privileged students.
"I honestly think it's a very good idea," Phan said. "There are a lot of privileged kids in this county, but I feel … there are some [people] around who … [don't have] the opportunity to get a higher education. … So, I feel it is very beneficial."
But Phan said the scholarship is not publicized enough for students.
Kibler said officials from Maryland's 16 community colleges are keeping in touch with the state in an effort to improve the reach of the scholarship.