Formerly convicted alum speaks on his life, time in prison, and new book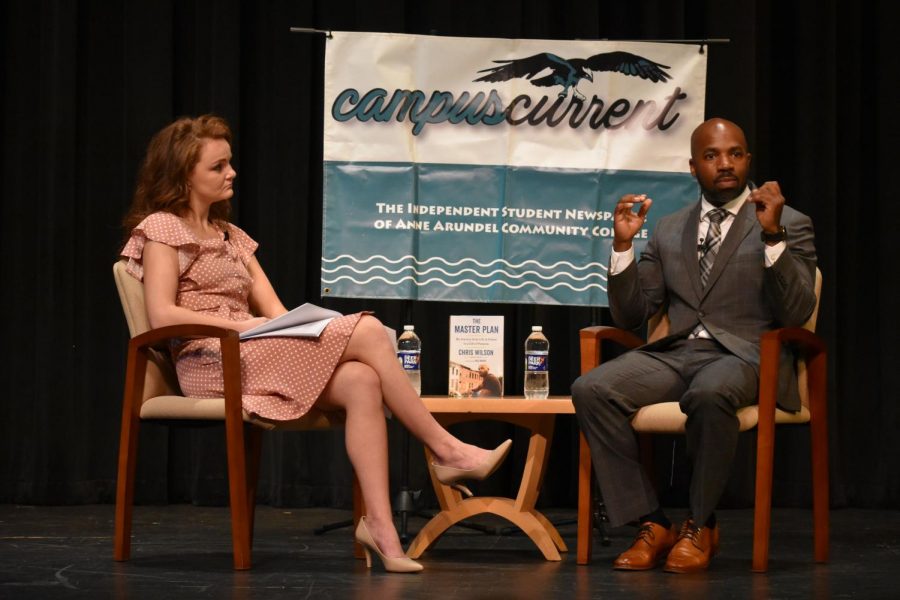 A formerly incarcerated AACC alum said education was instrumental to his life and success in a speech Monday.
Chris Wilson, author of "The Master Plan," explained to former Campus Current Editor-in-Chief Alexandra Radovic that his book is "written about my life story, but [there's] a lot of takeaways in the book for anyone. For business, for life, for the criminal justice system."
Wilson explained that while incarcerated for the death of a man who threatened his life, he chose to write out a "master plan," a list of things he wished to do once he got out of prison.
While in prison, Wilson took classes from AACC in a program where professors met with and taught inmates. He eventually received an Associate of Arts in Sociology.
After his release Wilson went on to start numerous business ventures, become an artist, an advocate for prison reform and an author.
"We invited [Chris] to come and talk to our current students and some faculty and community members because he has a very unique story where he, instead of getting his degree on campus like we do … [he] got his degree while he was serving time in prison," Radovic said. "I think he's just a really inspiring person that could really teach our students the importance of education."
Radovic first spoke with Wilson regarding a story she was writing last semester on professors teaching in prisons before inviting him to speak on campus.
Campus Current adviser Sharon O'Malley, an assistant professor of journalism, explained how her COM-101 class helped bring the event together.
"Their project for the past month has been to get 100 people into the audience for this speech [and] I think we had five media people [including Campus Current]," O'Malley said. "We had people from the community … we had the Black Male Initiative … and we had classes that get extra credit from their professors … The students did all of that."
Approximately 120 people attended.
One of O'Malley's pupils, first-year journalism student Brayden Nazarian, said he enjoyed the speech and felt inspired by Wilson. "He's a true DMV role model," Nazarian said. "He's somebody that people should look up to not only if they've been through the same experiences as him, but just in general."
Another student of O'Malley's, third-year theater arts student Nicholas Hynson, said "I thought he was a nice human being and I thought you know 'This is a man who did want to change his life around and he shows it.'"