72% of poll in esports' favor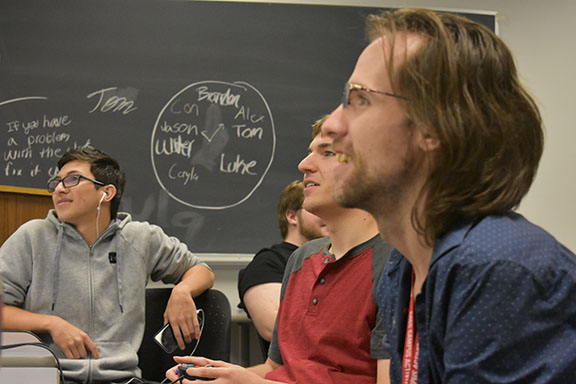 Sports studies students and professors said in October they would like AACC Athletics to start an esports team.
Esports—electronic sports—involve established teams that play video games competitively for fun, ranking or monetary rewards.
In an informal poll, 72 percent of the 40 students who participated agreed that Athletics should add esports to its existing roster of 12 teams.
"I think esports is a growing trend," said adjunct instructor Richard Hardesty, who teaches history and American studies. "Video games have been a prevalent part of our society."
He added: "I don't think you can deny an esports team as long as the interest is there and the funds are there."
"There's a huge industry for [esports]; it's constantly growing."
Student Kiri Aist
Brandon Gebhardt, a first-year wildlife student, said the concept of esports as an Athletics Department team needs "a little more backing from AACC" before it will get started.
The esports industry generated approximately $865 million in 2018, according to Statista, a global business data platform, which projected that number will reach $1 billion this year.
"There's tournaments for [esports]; there's a huge industry for [esports]; it's constantly growing," Kiri Aist, a third-year biology student, said.
College and high school esports programs have sprung up all over the United States, with tournaments and leagues offering millions of dollars in prize money.
In July, for example,  Epic Games awarded Kyle Giersdorf, a 16-year-old gamer from Pennsylvania, $3 million for winning the Fortnite World Cup.