Knitters talk social justice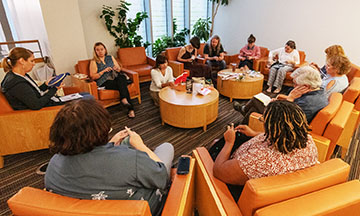 AACC faculty members this semester started a knitting club for professors, students and staff who want to talk about social justice issues as they knit.
The Radical Knitting Club had its first meeting on Sept. 6 in the library.
The meeting began with Dr. Heather Rellihan reading a passage from "All About Love" by Bell Hooks, and leading a group discussion.     
Rellihan, a professor of gender studies, said she likes the idea of "craftivism," saying it allows people to make things while thinking through a social justice lens.  
Rellihan created the group with distance learning librarian Sophie Reverdy.
The group meets every Friday from 12-1 p.m. on the second floor of the library and features a guest reader. Members listen while knitting, crocheting, cross-stitching, beading or sketching.
"It feels personal to me as a librarian because of the mission of a library, which is to bring people together and inspire them," Reverdy said.  
English Department Chair Dave Meng, who attended the first meeting, said he likes mixing relaxation with intellect and meeting without an agenda.
Systems librarian Michelle Robertson said she joined because she likes discussing the weekly topic.
"You don't have to know how to crochet or knit," Robertson said. "You can just be interested. And you don't have to feel you are a radical," despite the group's name.  
Meng said he likes the use of "radical" in the name.  
"Radical doesn't mean extreme," Meng said. "It means getting to the root of the topic."
Reverdy said the group does not have an official goal, other than to bring people together to inspire each other.