AACC recruits older learners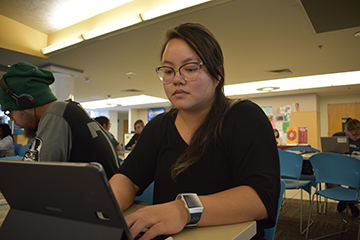 AACC officials have shifted their recruiting focus from high school seniors to older students.
The school has traditionally targeted high schools for recruitment, according to Dean of College Transition Deneen Dangerfield. This year's effort will involve recruiting 25- to 39-year-olds.
"It is our intention to level that and attempt to reconnect with the adult students and see how we can move them to meet their educational and career goals," Dangerfield said.  
Recruiters reach into the community, targeting churches and community centers. 
Dangerfield said non-traditional students typically enroll at AACC after entering the workforce and realizing the value of an education to prepare them for the careers they want. Some hope to improve on the careers they already have, she said, noting some older AACC students already have college degrees, while others do not. 
Second-year museum studies and art history student Katherine Bobby, who has a Bachelor of Arts and an associate degree, said she is back at AACC to learn the skills she needs to get a good job.
"It is very tough to get a job without having experience or the proper skill set," Bobby said. "Even though I had gotten the degree that was required, there were other classes or skill sets that we never learned while [earning] my degree." 
Bobby said she chose AACC because "it is convenient; it is close … to where I live and I can commute every day without any issues." 
Non-traditional student Carol Francesconi said she chose the college because of the school's resources for students, such as peer tutoring.