Adjunct talks of HIV journey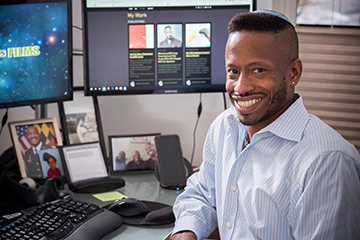 Then-28-year-old Justin Smith is staring into his video camera. He takes a deep breath and starts his journey into YouTube.
It's May 27, 2008. Smith introduces himself to the camera as he makes his YouTube debut in a video that will eventually reach more than 20,000 viewers.
Smith is about to tell the world something that just a few years earlier he had tried to keep a secret from his family: He is HIV positive.
He plans to share his journey with HIV with anyone who chooses to log on to YouTube.
Since then, Smith, whose last name is now Terry-Smith, has become an AIDS activist and an advocate for others suffering from the illness.
He also teaches part-time at AACC.
He is a husband and father; a health analyst for the U.S. Department of Health and Human Services; an author and speaker.
His YouTube series, which he calls "Justin's HIV Journal," reaches 2,646 subscribers.
His idea to start a YouTube channel documenting his journey with different medications started shortly after he was diagnosed.
"I was scared to go through the medication, so I started the blog," Terry-Smith said. "Starting the channel was a sort of therapy for me. … I could talk about HIV to all of these people."
Before he started the channel, "I looked to see if there was a gay black man like myself who had a channel similar to what I wanted mine to be about and I didn't see anything," he recalled. "I just said, 'OK, I'm going to do it.'"
Terry-Smith said the page allowed him to make an impact on the YouTube and HIV community and to debunk some of the misconceptions about HIV.
"I thought that at least I would have people watching and learning from me," Terry-Smith said.
In a video titled, "Some facts on HIV/AIDS," Terry-Smith crushes misinformation: "One, you cannot get HIV through kissing," Terry-Smith said. "It is highly unlikely, and I don't believe there has been a documented case of someone getting HIV from kissing."
Terry-Smith also answers viewers' questions.
One viewer asked if it was possible to contract HIV from food prepared by an HIV-positive chef. Terry-Smith said it is highly unlikely.
Everette Carter, who subscribes to Terry-Smith's "Journal," commented that the information is needed. "So often it's assumed people already know this stuff," Carter said in a comment online.
Terry-Smith's YouTube career paved his way to becoming a writer.
Because of the channel, he has been invited to write for the Black AIDS Institute website, and for Baltimore Gay Life and A&U magazines.
He pens a regular column for A&U Magazine, titled, "Just*n Time." In it, he answers questions from his readers about HIV and AIDS.
A&U Magazine's Managing Editor Chael Needle described Terry-Smith as a "true advocate. He uses every opportunity to advocate through his columns and his YouTube channel."
Needle added: "He's just kind of magnetic. He's the person you want to be with if you go to a party and don't know anyone."
In 2013, Terry-Smith wrote a children's book called, "I Have a Secret," which tells a story of a boy who is living with HIV and must keep it a secret from his classmates.
In the time he has had his YouTube channel, Terry-Smith has earned a doctorate in public health from Walden University. He still takes classes there to study counseling.
"When I retire, I want to open up my own counseling practice with my husband," Terry-Smith said.
His husband, Dr. Philip Terry-Smith, is assistant dean of social sciences, philosophy and interdisciplinary studies at AACC.
The two met in Washington at a fundraiser in 2006, and instantly clicked, Justin Terry-Smith recalled. Philip Terry-Smith said he shares his husband's passion for health and wellness and is aware of the risks of engaging in sexual activity with an HIV-positive partner.
"I … obviously wanted to mitigate the risks," Philip Terry-Smith said. "There wasn't any … hesitance when he told me. I knew what the risks were. We're responsible in how we maintain our health and lifestyles."
Philip Terry-Smith has appeared on the "Journal."
"Medical technologies have advanced so much that someone can live with being HIV positive," he said. "HIV is on the same spectrum as any medical condition and I think we're getting closer to a cure for HIV."
He added, "The YouTube channel is a way of keeping himself well and sharing information with other people."
Justin Terry-Smith said the couple stays active and healthy and encourages their children, Lundyn, 22, and Tavis, 21, to do the same.
"Our sons … are both openly gay," Philip Terry-Smith said, "so the talking about HIV was a conversation about sexual health and taking care of themselves. We're very open about the topic in our house."
Those who know Justin Terry-Smith describe his personality as "electric."
"He is an amazing person inside and out," his sister-in-law, Lindsay Terry, said. "He has become an inspiration to not only me and my husband, but to our children as well. He's their favorite uncle."
Terry's husband, John, called his brother-in-law "genuine."
"He has such a warm and bubbly personality," John Terry said. "He's someone who doesn't mind helping people out."
The couple credits Justin with teaching them about HIV.
"He was very open about it from the beginning," Lindsay Terry said. "He was always honest and focused on educating. … Being heterosexual, I know there's a lot of misconceptions about HIV but I'm glad Justin has been able to enlighten me about it."
"I am more aware of the truth about HIV since knowing him," her husband agreed. "We have learned that the disease is not a death sentence."
Justin Terry-Smith said crushing the misconceptions about HIV has always been one of his main goals.
"When young HIV activists or activists in general ask me how to get into activism, I tell them to do something that no one has ever done before," he said.
Terry-Smith said he would do things differently if he could go back to the day he learned he has HIV.
"I would tell myself that everything is going to be OK, and that this is going to make you stronger than you've ever been before, and you are loved," he said.