Profs: Students at AACC can advocate for rights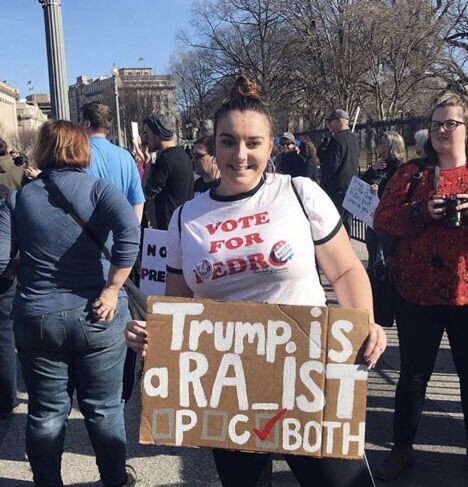 As she walked alongside nearly half a million other activists at the 2017 Women's March in Washington, D.C., gender studies professor Heather Rellihan realized the event wasn't just about women.
Not only were the marchers advocating for women's rights, but for reproductive rights, LGBTQ rights, immigration reform and more.
The march, she recalled, wasn't just a demonstration for women's rights but a demonstration for all rights.
"While some people saw this as a weakness … I saw this as a strength," Rellihan said. "It felt like we were all recognizing that oppressions and injustices are linked, and that if we want to advocate for equity and fairness, we have to do it on all fronts."
Rellihan said she hopes she is inspiring students to believe in a cause that's important to them.
"We need to help young people understand that there are lots of ways that they can be involved and that they should all see themselves as activists," Rellihan said, "and that being engaged and being civic-minded is important."
Rellihan said she considers teaching to be a part of her activism. She encourages her students to become consumer activists.
"I'm very thoughtful with things that I purchase and things that I don't," Rellihan said. "I went to a presentation and the speaker said the biggest thing we can do is just change how we eat because consuming meat is so much more taxing on the environment."
Besides attending protests, Rellihan said students could have conversations with friends about social issues, write articles and essays about topics that are important to them and use social media as an outlet for activism.
A study by the Pew Research Center in 2018 said roughly half of Americans have been civically active on social media within the past year.
"I don't really think someone sets out to be an activist," first-year transfer studies student Ruth Stimely said. "I think it just happens when you're really passionate about something."
Stimely, who considers herself an activist, said some people have misconceptions about activists that scare them away from embracing causes.
"I think the misconception about activists is that we're all crazy people who only think one way and can't be convinced otherwise," Stimely said.
Student Government Association President Jacob Smith said a good activist is someone who donates time to a cause.
"They show up to protests, email [and] talk to their policymakers," Smith said.
Smith said he supports a couple of political organizations that advocate for education.
But nobody should expect college students to become advocates, Smith said.
"I think college students have a lot on their minds," he said. "I don't think it is fair to expect them to add more by going out and advocating."
Art professor Chris Mona said he advises students to "find something that matters to you and take action on it."
Mona said his focus on activism and social justice occurred after the Charlottesville riots in which a group of white nationalists protested the removal of the Robert E. Lee statue from Emancipation Park. During the rally, a protestor ran his car into the crowd, killing one.