AACC legal studies hosts gun control event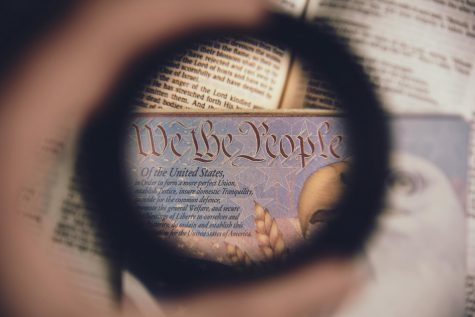 AACC's legal studies institute hosted a gun control forum where judges shared insights on the second amendment.
"This is the twentieth year we've hosted a forum," said Mary Bachkosky, legal studies professor. "One year we hosted a forum on the fourth amendment's right against unreasonable search and seizure."
Michael O'Rourke, legal studies professor and moderator, opened by pointing out, "The second amendment is maybe a page long, but [it] is open to debate."
Chief Judge Matthew Fader, Court of Special Appeals of Maryland, explained how gun ownership cases are decided using late Supreme Court Justice Scalia's application of the amendment to individuals despite the wording regarding "a well-regulated Militia."
O'Rourke added Scalia called the militia section a "prefatory clause," while the intent is in the "the right of the people" clause.
The audience chuckled when Chief Justice John P Morrissey, District Court of Maryland, noted, "The framers would have been clearer if they had put a period after 'state'."
While his point seemed grammatical, it showed the degree of depth a judge uses when interpreting law.
The audience also asked for career advice for paralegal students, as well as personal questions about how they de-stressed from their jobs.
Judge Clayton Greene Jr., Court of Appeals of Maryland, stated he used to teach at AACC and four of his former students are now lawyers.
"Do well here first," Greene said.
Bennett added work experience helps because "more law schools are looking at it" while Morrissey recommended for students to "take a prep class for the SAT."
Regarding stress relief, Administrative Judge Laura S. Ripken, Circuit Court for Anne Arundel County, told of an experience when she was working on a "bad child sexual abuse case." A colleague told her to "go home or you won't be able to work the next case."
"Walk out of the courthouse," she advised. "Leave it there and go on to the other parts of your life. It's good to have a very good work life balance."
"Realize that people who come before us are generally having a bad day," Morrissey added. "And not at their best. So, you try to be at your best."
At the end of the event, students surrounded the judges and smiles were seen all around.
"I liked how Judge Bennett would say, 'Well, this is how it is in Federal law…'," said Amanda Fitch, graduating paralegal studies student. "I also liked the session where the judges took the time to answer personal questions, especially the advice questions."
"It was fabulous," Judge Ripken said. "I always enjoy, as I know the rest of the panel does as well, interacting with the students. I thought the questions delivered by the students were interesting and very intelligent and well thought out."
"I think the event went absolutely marvelously," Bachkosky said as she waved goodnight to smiling students. "I mean we had no room in the house…the judges were well received…they were engaging and funny and smart."
"I even had one student say, 'I never thought I could be a judge, but sitting here in the audience I thought I could do that some day,'" Bachkosky said. "That's really impressive."