CAB host Earth day events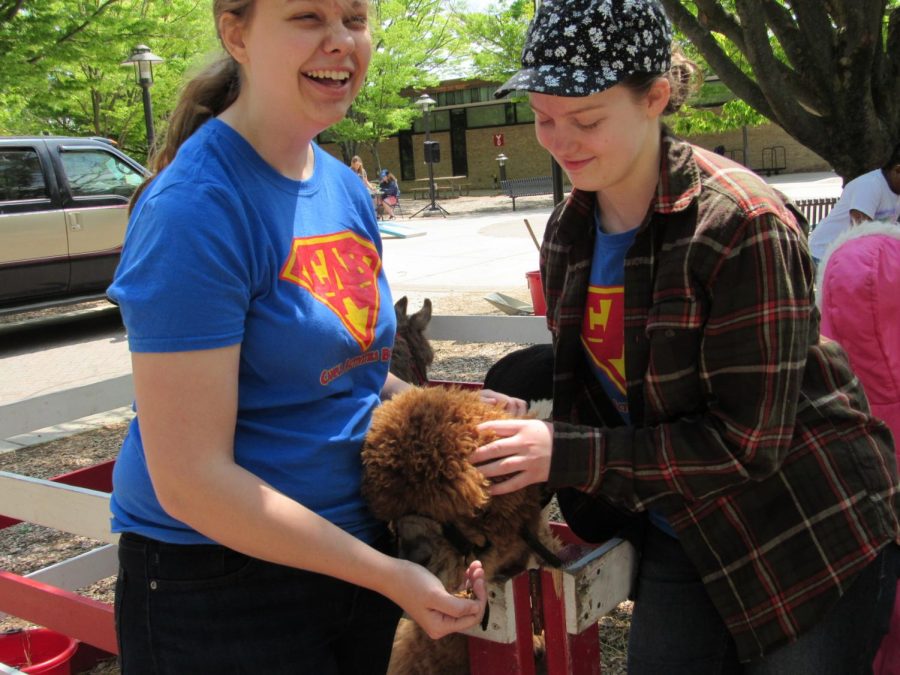 The science clubs on campus and Campus Activity Board hosted their second annual petting zoo to celebrate Earth Day.
"Earth day is a celebration and acknowledgement of the importance of our planet," said Willow Windrum, second-year botany student representing the biology club. "It's also a way of spreading knowledge and information about the Earth every year."
"We're trying to remind students to keep the Earth a little more green and be a little more conscious about their waste while having fun with animals," Catrina Murphy, second-year history student and the CAB events chair, said.
Kristin Kohout, second-year business administration transfer and CAB social media chair, added the event was also to "raise awareness of our personal impact on the Earth and to take joy in the beauty there is around us."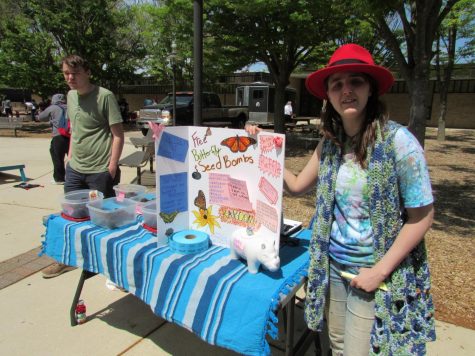 Students could paint flower pots or play corn hole on the Quad while looking at baby goats and camels.
Erin Hamner, first-year environmental science student and a member of the Earth Science club, explained an informative Earth Day poster co-created by the Chemistry club.
"The poster has a lot of basic facts as to why plastic is harmful," she said. "And why a plastic bottle is harmful to the environment and why you should use a reusable bottle. It also has a map of different places around campus where you can refill your bottle for free."
"Only about 25 percent of plastics in the US are actually recycled," Hamner said, pointing to a statistic on her display also indicating 75 percent of plastics ended up as waste in landfills and oceans. "You can recycle plastic, so it's actually kind of sad that not a lot of it actually gets recycled."
"The Earth science club handed out reusable water bottles to reduce the impact of plastic waste," Kohout said. "And the bio club is handing out seed bombs … they are helpful for pollination and a lot of them are geared for butterfly gardens so that is really cool as well."
"With 'seed bombs' it's really about supporting the pollinators in our environment," Windrum said, motioning towards containers bearing seed-filled balls of dirt. "The resulting plants provide food sources not only for butterflies and the bees but also for the rabbits and the grasshoppers that come over. So it's really helpful because it provides a really healthy food source in your yard. It's also quite beautiful."
"I did not even know it was Earth day," said Grace Laughlin, third-year graphic design student while she played with a five-week-old camel named Aladdin. "But this does remind us that we're not the only ones on this planet. I mean look at this little guy… He's been chewing on my hair a lot, but he's definitely a sweet guy."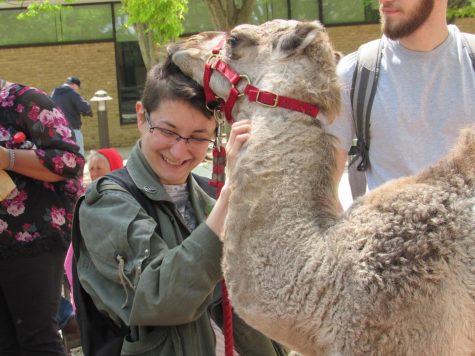 Autumn Gardner, a second-year nursing student, also wasn't aware that today was Earth day but she was glad she came out.
"I love it, this is the best day ever," she said, playing with the rabbits. "Today is about keeping the planet clean for animals, too."