Environmental author shares journey through climate-changed south
A nonfiction writer shared his latest creative work, "Sudden Spring: Adaptations to a Climate-Changed South" on Thursday in Humanities 112.
The reading was part of the Writers Reading lecture series which invites poets, novelists and other literary professionals to present their work to AACC students.
Dr. Rick Van Noy's book used creative writing techniques to immerse his reader in a journey through a region devastated by rising sea levels and constant flooding.
Such techniques involved describing a near tussle with an unexpected alligator, colorful characters such as a sea turtle researcher who looked like Indiana Jones with pigtails, and the surprise discovery of trysting lovers during a search for turtles.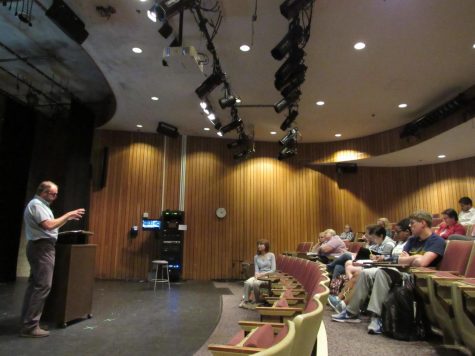 By far, the most haunting image was of ghost trees which represented the remnants of a wood line eaten away by encroaching salt water. The exposed roots and stripped bark made the sad sentries look like dead men walking.
"In the not so distant future some places may have to be let go," he said sadly, linking to a steady theme of grief and loss through the images.
Students watched slide after slide of communities devastated by "nuisance flooding," a political term Van Noy said clouded human culpability in damage not brought by rain but by excessive drilling or other forms of industrial avarice.
Van Noy interacted with students during his reading and asked why more young people weren't upset and engaged with this issue, especially given the damage Maryland has already seen from increased flooding.
Austin James, second-year communications student, said the endless debate made it hard to take a stand.
"If more people came to agreement on this issue and really stressed the state of emergency," he said. "Then yeah, that would get my attention."
"So you get frustrated with the polarization," Van Noy said. "And it shouldn't be a polarized issue."
Van Noy explained that conservative and liberal politicians agree about the reality of climate change, but not what to do about it.
"I went to several places that have Republican mayors," he said. "And they don't dispute that climate change is happening, they just disagree on the solutions."
Van Noy's slides showed the evidence was all around, and some of it was grim.
One image was of tombstone washed onto a garbage-strewn beach. The caption read: "Don't Step There," and Van Noy recalled it was what his guide told him after pointing to an exposed leg bone.
"It's not just a science phenomenon, it's a cultural one," he pointed out, noting how humanity's hunger for fossil fuels was ironically destroying its physical presence on the planet.
While Van Noy encouraged students to become knowledgeable about and active in local community efforts to address climate change, he also wanted them the feel the loss of a childlike wonder for nature.
His earlier book, "A Natural Sense of Wonder," is about "connecting kids to nature with the seasons."
"So if you connect with nature and you experience wonder," Van Noy explained. "Then you want to share that. Then you want to make sure it lives and exists because you experience some sort of profound connection with something nonhuman, something that's out of yourself."
He originally wrote the work for his own children, but hopes both books help motivate younger generations to become more engaged and want to learn more about climate change.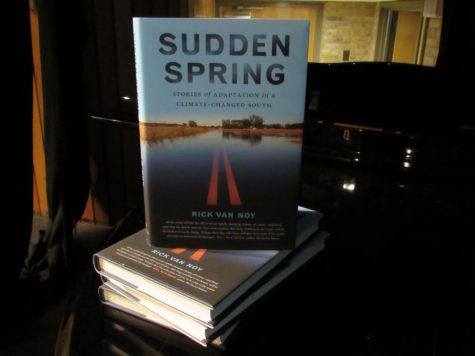 James said he learned a lot from Noy's reading.
"I learned CO2 is the main reason behind climate change," he said. "And how it relates to the atmosphere."
Newell also said she discovered new things from the presentation, such as "what to personally take action on."
"This was a man who travelled around the country," she said. "Seeking out people who have different stances on climate change."
Rae Supko, third-year creative writing student, said she learned how "a lot of corporations take advantage of people and their fears but don't actually do anything about it [to solve the problem]."
English professor Susan Cohen said she had known Van Noy for almost 20 years and both shared a focus on environmental writing.
Today that focus was shared with future writers and environmental scientists who learned they have the power to change the world in the right direction.