Soapbox Sisters event filled with motivational speeches, graduations
A communications professor hosted the annual Soapbox Sisters performance for women to recite famous feminist literature.
Some of the stories told were an essay by Susan B. Anthony and Oprah's Golden Globes speech.
April Copes hosted the event.
"I think just having everyone around me and having professor Copes help practice with it with me gave me a lot of encouragement," Amy Emminizer, a Jump Start student said.
Emminizer preformed singer Halsey's A Story Like Mine.
"I was so nervous but I'm really glad I spoke clearly even though I cried," Emminizer said.
Ria Freeman, a second-year transfer studies student, performed Oprah's Golden Globes 2018.
"I picked this one because it was close to my heart and my mother loves Oprah Winfrey," she said. "She [will] probably be really proud when she sees the footage," Freeman said.
"It really meant a lot to me because it's not just within the entertainment industry it's like every woman goes through this type of stuff, it doesn't matter where you are."
Denise Portis, a psychology professor performed "I'm Not Your Inspiration, Thank You Very Much." The speech was originally delivered in 2014 as a TED Talk by disability activist, Stella Young.
"'No amount of smiling has ever made a ramp appear'," Portis said, reciting Young's powerful words from her own wheelchair on stage.
AACC student, Bereket Asfaw, and AACC community member, Myrrh Cauthen, delivered Sheila Widnall's speech when she was inducted into the National Women's Hall of Fame in 2003.
A former professor of aeronautics and astronautics at MIT, Widnall also served as U.S. Secretary of the Air Force between 1993 and 1997 as the first woman to lead a branch of the U.S. military in the Department of Defense.
Nusrat Umi, a first-year business student, and Mikaela Danyaon, a first-year forensic science student, both read the words of Linda Sarsours, a political activist and co-chair of the 2017 Women's March in Washington, D.C.
"'We must speak truth to power no matter the consequences,'" Danyaon stated with Sarsours' conviction
After the event, Umi said performing Sarsour's words were "very inspiring." Danyaon added, "It opened my mind, too. I should be more aware [of] what's happening around the world."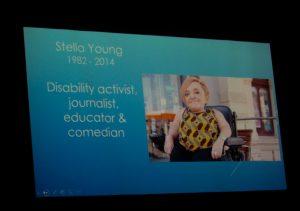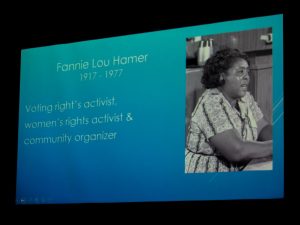 For one poem, Commit to Never Being Bystanders, two female students performed the speech wearing graduation gowns.
Copes said students wearing costumes during the event was new.
Host Copes said she hopes to have a more diverse group of performers in the future.
"Some years we do have men that select speeches. We did have a couple at the beginning of the planning process, and they didn't stick with us til end."
At last year's event, Copes said audience members were loud and reactive during poems, but this year was much quieter.
"I was a bit surprised that we didn't hear people shouting out. Sometimes the energy becomes such that the audience really gets loud and involved and shouting back "go girl," … when they hear powerful comments that resonate with them," she said.
Copes also talked about the faculty member who created the event.
"A professor in the philosophy department, Carolin Woolson and the chair of the Gender Studies department, Heather Rellihan, came up with this idea for the event to educate people about powerful women around the world."