"On the Basis of Sex" starts off strong then gets scattered
Thinking of going to today's Movie Monday event at 3 in CALT 100? Here's Campus Current's take on the movie: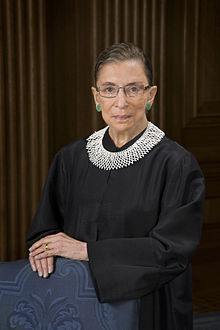 "On the Basis of Sex" is a charming biographic about Supreme Court Associate Justice Ruth Bader Ginsburg that starts off strong and kind of loses its momentum after a while.
The movie starts off with Ginsburg's—played by Felicity Jones—acceptance into Harvard, showing her as one of a few women in a sea of men.
Her classmates and professors did not respect her and it's empowering for anyone to see her fend for herself against the sexist institution that surrounded her. Especially as a mother and even going so far as to go to her husband's classes when he was diagnosed with cancer.
The film starts off very strong, after this though, it loses itself a bit.
After developing Ginsburg's character, the movie sacrifice's its narrative and pacing to skip through parts of Ginsburg's life which leaves the second portion of the movie feeling cluttered and seemingly without direction.
The audience is given almost a montage of events leading to the main conflict.
But after this odd little sequence, the movie finds the part of Ginsburg's life it wants to discuss the most and sticks to it.
The final portion of the film is incredibly emotionally captivating, watching Ginsburg rising to meet her goal.
Felicity Jones did a fantastic job with the role, giving a real sense of frustration at the heavy discrimination that faced Ginsburg in that era, yet still having an unwavering optimism at the idea that things can change.
The cinematography and score aren't bad by any means, but neither were exactly remarkable either.
Even through its faults, "On the Basis of Sex" is a quality movie depicting a strong, optimistic woman who wants to see her country change for the better. It's comfortable viewing for a rainy day, or at today's Movie Monday event in CADE.