Medevac helicopter lands in overflow parking field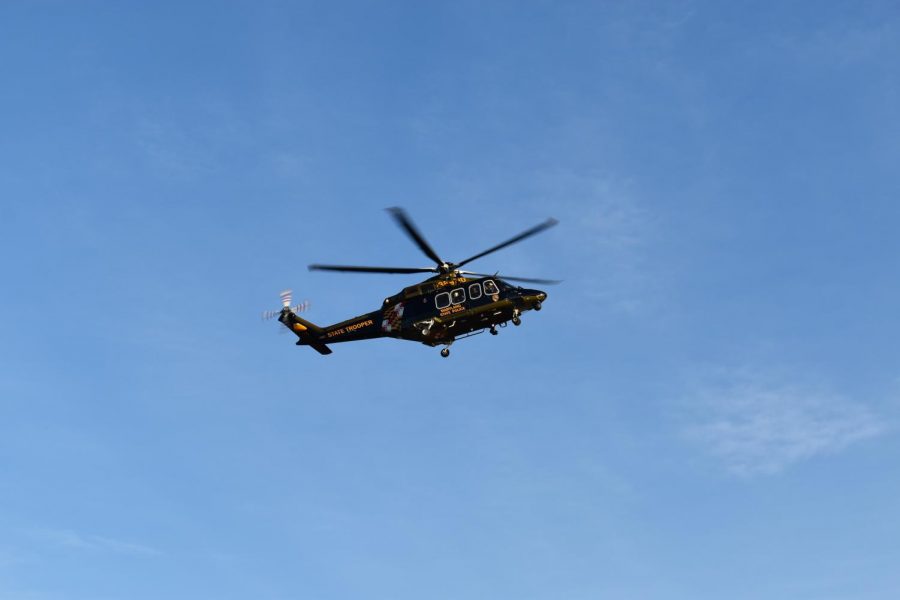 A medevac helicopter landed in the overflow parking, off of Lot C, to pick up an elderly man at 6:05 p.m. on March 11.
The man reportedly was injured when he fell down a flight of stairs at an off-campus location. Emergency responders took him to the landing site on campus.
They then escorted the man to the helicopter to transfer him to a hospital for a head trauma he reportedly suffered from the fall.
Witnesses observed  that the man was moving during the transfer.
Professor Lynda Schott—who teaches American Sign Language 3 in the Annex B building—saw the occasion as a learning opportunity and took her class to watch from the hill between Lots B and C.
The class practiced signing words like police, ambulance and helicopter. The students said they thought the exercise was effective because they "won't forget it that way" and "it's good to actually see" what they're learning.
AACC's practice fields are a primary landing site for the Maryland State Police medevac helicopters, but the lacrosse team was practicing on the field at the time.
Melissa Slade, mother of Emily Slade, who plays on Women's Lacrosse, said she was walking her dog while her daughter was at practice.
"I was just coming down this way anyway and then I saw the helicopter. It was pretty interesting so I wanted to watch it land," Slade said.