Religious clubs meet for prayer, Bible study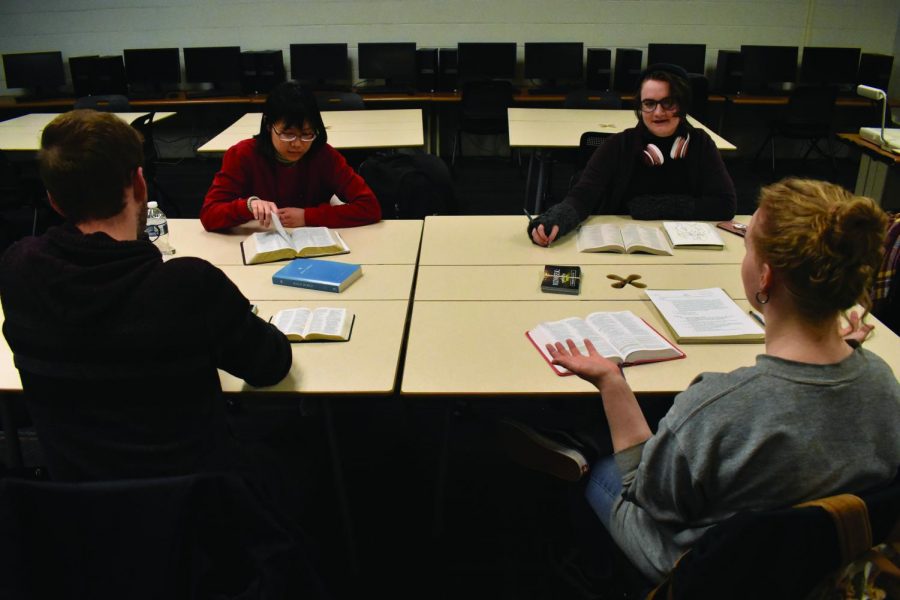 Two Christian clubs on the Arnold campus regularly invite students and faculty to come together for prayer, Bible study and social opportunities.
Experience Apostolic Campus Ministries, or EACM, and Coalition for Christian Outreach, or CCO, are open to new members of any religious background.
CCO's adviser, former AACC student Isaac Vineyard, said his club hosts Bible study every Monday through Thursday.
On Mondays, the club meets for Bible study at 1 p.m. in Humanities 100. On Tuesdays, the meeting is at 1:30 in Humanities 116. On Wednesdays, it takes place at 10 a.m. in Humanities 101, and on Thursdays, the group gathers at 2 p.m. in Humanities 100.
Every fall, CCO members take a mission trip to Philadelphia to help at Rock Ministries, which offers music lessons and athletic opportunities for kids living in  high-crime neighborhoods.
"We are very much about Anne Arundel Community College," Vineyard said. "We love this place. … We want to do things just to make people know that we care about them."
Vineyard said when he started attending AACC, the campus had one Baptist student ministry, but it didn't have many members.
"We realized that … a large number of students … didn't feel like they had a place to go where they were welcomed," Vineyard, who formed CCO in December 2015, said. "I was from the [Arnold] area already and was interested in the school, so it seemed to make sense."
Mike McGurk, the adviser for EACM, said his reasons for working with the club are similar to Vineyard's.
"I've always had a passion for students and for students being able to have an opportunity to experience the love and peace of God," McGurk said. "Now I'm a full-time minister."
First-year business student William Spriggs called EACM a "safe haven."
"[It's] an environment where everybody can come in and no one is getting judged," Spriggs said.
CCO club President Taylore Baillie said she has "great enthusiasm" for her group.
"I don't think that anything can compare to the community and the friendliness and openness and welcoming atmosphere of being around people from CCO," Baillie said.