Literature class discusses "The Big Smoke" for BHM
An english professor facilitated a discussion this morning with students and faculty on a poetry collection focused on a famous black boxer.  
AACC professor, Dr. Suzanne Spoor, read passages from "The Big Smoke," by Adrian Matejka, an African-American poet. 
 The work is written from the perspective of Jack Johnson, a boxer from the early 1900s, who fought racism and segregation to become the first African American heavyweight world champion.  
Spoor lead the discussions in a three-part series. The first took place Monday, Feb. 18. The second event was scheduled for Wednesday but was postponed because of snow.
Spoor had an intimate group of students, each ranging in age and contributing different aspects to the conversation.
 After reading "Texas Authorities Will Prosecute the Champion if He Takes a White Wife," Spoor highlighted both the racial history and the writer's choices.  
"Johnson was convicted under the Mann Act for marrying white women," Spoor explained. "But why do you think the author chose to put this title in quotation marks but not some of the others?" 
Carlina Diggs, a first-year environmental studies student, pointed out the title came from a Texas newspaper. 
Spoor explained that Johnson was "enraged by racism."  
"If he couldn't change in the dressing room [for a match], then he wouldn't do the fight," she said.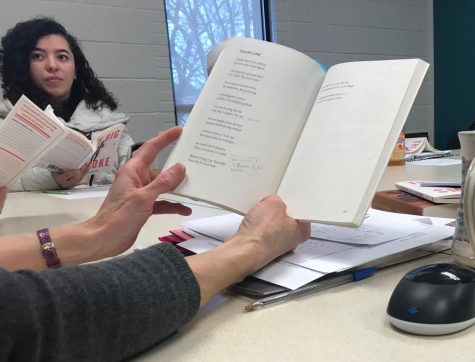 Devon Carter, a second-year psychology student, listened to a poem about an officer who pulled over Johnson to harass him.  
"History repeats itself with the so-called 'random searches,'" he said.  
Dr. Richard Otten, an American studies professor, said, "It might have been just an excuse to rifle through the car." 
"What's the stereotype of 'chicken' used here?" Spoor asked. 
During the discussion, she explained how a stereotype is damaging because "it flattens people and puts them in a box." 
Kajal Patel, a psychology student, added, "People used to call me a terrorist. I was only seven at the time. The news portrays my race [a certain way], but [they] don't know me." 
 Cheyenne Jones, a theater major, said she felt the poem "The Shadow Knows," was one "everyone can relate to."  
"Being a private school student, I was around a lot of Caucasians. Why can't I do the things I love and be educated and not 'betray my culture'?" She said. "He says, 'shadow' a lot and you can see his deep thought. It's through the whole book, so it's not like it goes away."  
"We all have 'saboteurs,'" Spoor explained. "But they are different for each of us."  
Spoor addressed the staccato feel to the poems and how they lacked the rhythm usually found in poetry. Otten mentioned how this felt like a boxer dancing on his toes during a fight.  
"The style is prose, like a shift of weight from one foot to the other," said Otten. 
Regarding Johnson's activism, Spoor stated, "Many people of color in the public eye have to make a choice, and if they choose to become an activist…" Her voice trailed off indicating negative consequences.  
"It was a good book. It talked about how racial things come up even in sports. It doesn't matter even if you're a winner or not," Javon Smith, a second-year psychology student, said.  
Diggs agreed: "It was a good way to see a different perspective. You see how someone world-famous [was] affected by injustice."