College to present 1st video on opioid abuse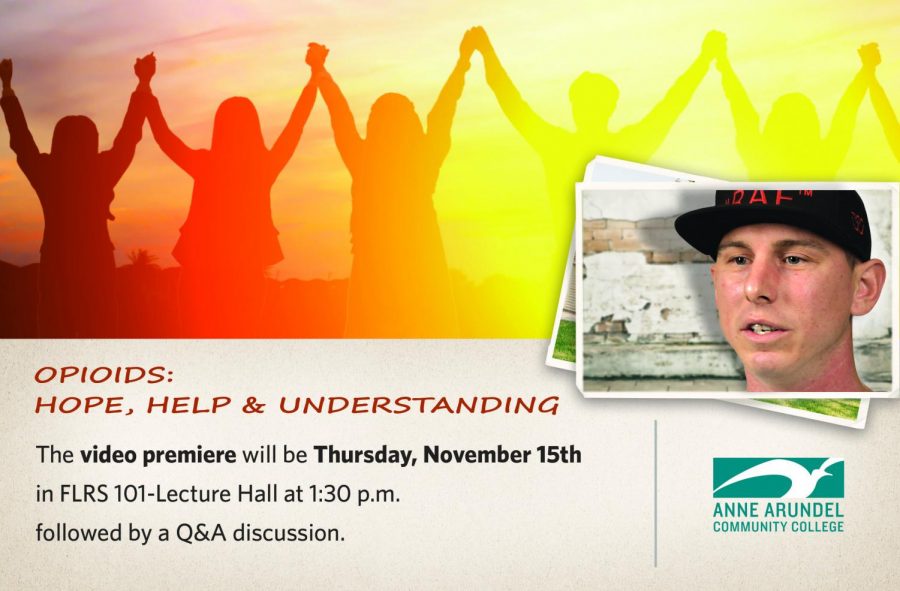 The college this semester will premiere a video about drug addictions, which may become required viewing for new students.
The video, titled, "Opioids: Hope, Help & Understanding," will premiere in Room 101 of the Florestano Building on Nov. 15 at 1:30 p.m.
Registered Nurse Beth Mays, the college's manager of health services, produced the film, which features recovering drug addicts at AACC sharing personal stories.
Students can access the video, which covers the signs of addiction and the resources available for addicts, on Canvas after the premiere.
Mays said she hopes the college will eventually require new students to watch the video and answer a short quiz to show understanding.
"Once it launches, we will engage in a strong marketing campaign, to include students, faculty and staff, to encourage incoming students to view the video," Dean of Student Engagement Tiffany Boykin said.
Mays said the main reason the college should require students to watch the video is to raise awareness about addiction and how students can find help at AACC.
"We all know someone or loved someone or are someone who is experiencing, firsthand, the devastation [of drug addiction]," Mays said. "We want to make the education positive."
Mays said the intention of the video, which she has been working on for a year, is to inform the student body and to let addicts know it is possible for them to get better.
Coordinator of Substance Abuse Education Loretta Lawson-Munsey said the idea for this video came from the Maryland Start Talking Act of 2017, which required schools to make sure students are aware of the opioid epidemic and resources on campus and in the community.
Lawson-Munsey said she hopes the video makes people go through a self-screening process to think about whether they or someone they know could have a drug problem.
"I think it's great," Lawson-Munsey said. "I think it's better than anything we've seen put on by others."
The video features Ron Easley, a second-year addictions counseling student.
Easley said he lived on the streets for 25 years before seeking rehabilitation at the Damascus House in Maryland and eventually coming to AACC.
Easley said he was getting high every day on a variety of drugs.
"I would take [drugs] if it would alter my mood," said Easley of his past. "Whichever drug I chose to use, the consequence was the same."
"As I started getting into my recovery, I had to figure out what I wanted to do with the rest of my life," Easley said. "I went from homeless to happy."
Easley has made the dean's list since coming to AACC, is finishing his certification in peer recovery support and was recently accepted into the Association of Recovery in Higher Education Leadership Program.
"This has become my savior," Easley said. "This is what I found that is greater than me to put my time and effort into in the hopes that I'll become a better person. … Before AACC, my existence was bleak."
Easley said requiring new students to watch the video is an "awesome" idea.
Lawson-Munsey said students will connect more with the video than with lectures from adults, because it features real-life stories from students.
"As enthusiastic and compassionate and passionate as I am about recovery, I'm not in recovery," Lawson-Munsey said.  "I can only give a student so much, which is why we need them to watch the video."