Campus to experience construction come fall semester
AACC this semester is continuing construction on a multi-million-dollar Health Sciences and Biology building that began over the summer on campus. 
The college will complete the $117 million project, which is half funded by the county and half by the state, in August 2021.  
The college demolished the pool and the Schwartz Building on East Campus this summer and rerouted surrounding walkways to accommodate the construction of the new building. 
 "Anything that will help improve the school is good … and [the construction] isn't too bad to walk around," first-year media production student Daniel Chatmon said. 
 Vice President for Learning Resources Management Melissa Beardmore said because the building is still in the design process, work will continue through the fall semester to clear space needed, but the college won't actually start putting the new structure together until next summer.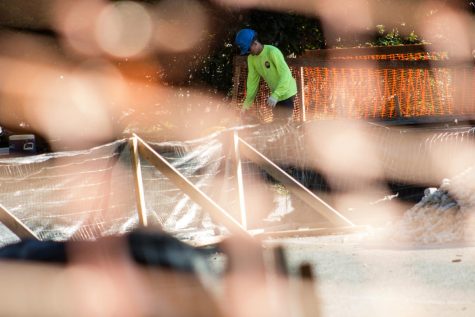 Catherine Jackson, a second-year biology student, reported she frequently got stuck in the elevators of the former Schwartz Building.  
 "The construction is a little inconvenient, but it will be good in the long run," Jackson said.  
According to Beardmore, the biggest change for students this year will be the extension of Ring Road, which circles East Campus. 
 Beardmore said the extension of Ring Road around the new building to decrease traffic flow will begin in March. 
 The college will build a new parking lot by the main entrance of the college, near the tennis courts, from December through June. 
 According to Beardmore, the pool and the old Schwartz Building were underused and the health and science programs were in danger of losing their accreditation because they lacked the space necessary to support those fields of study. 
 "At the end of the day we are going to have a beautiful, huge, contemporary building for the health science and biology programs … a 21st-century building with really cool facilities that are appropriate for students," Beardmore said.