Walkouts may have consequences despite free speech protections, judges say
A panel of six state and federal judges Thursday told students they must be prepared for legal consequences if they engage in civil disobedience such as walkouts.
Judges also said they expect lawmakers to start regulating speech on the internet soon.
At AACC's Legal Studies Institute's annual Forum on the Judiciary, a panel of top judges from each of Maryland's state courts and one federal judge discussed the topic: "In today's society, what types of speech are protected?"
Maryland Court of Appeals Judge Clayton Greene Jr. said many students protesting recently may not understand that walkouts and demonstrations could have consequences ranging from suspensions and expulsions to actually being sued by schools or businesses.
"Students feel that they have this right to protest, to make known that something is wrong in our society," Greene said. "But if you're going to do that, be ready for the consequences. … [Protection of free speech] doesn't necessarily mean … that the government can't cite you" for breaking the law.
Family Law Magistrate Sandra Howell of the Circuit Court for Anne Arundel County noted that the superintendent of Anne Arundel County schools sent a letter to some parents saying there will be consequences for students who walk out of their classes.
"Students who choose to take part in any demonstration or other conduct that disrupts normal school operations will be subject to consequences set forth in the Code of Student Conduct, just as they would be on any other day," the letter said, according to the Capital Gazette.
"One of those consequences could be facing a charge that you're disturbing school activities," Howell said.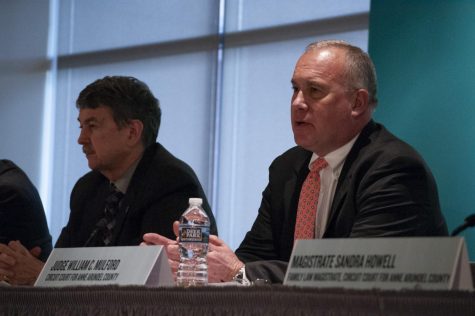 The panel also discussed issues of free speech on the internet.
Judge Richard Bennet of the U.S. District Court for Maryland said he expects that Congress will soon consider regulating the internet.
"I think you're going to see that there is going to be movement" on regulating terrorism recruitment, fake news, harassment and bullying via social media, Bennet said. "The day is coming that the powers-that-be are going to start reigning this in."
"Clearly Congress is very interested in this issue," Greene said, referencing recent hearings of Facebook CEO Mark Zuckerberg before Congress. "And I suspect there's going to be regulation."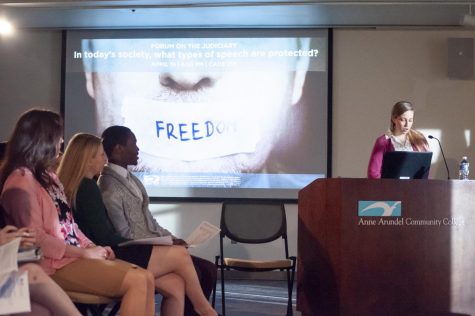 After the event, Maryland Circuit Judge William Mulford told Campus Current the forum "is always fun," adding that he wished there was more time for student questions.
Greene, who taught in AACC's paralegal program from 1990-2001, said the forum "is a great opportunity for me to interact with the students, since I can't fit teaching here into my schedule."
AACC has been hosting this forum annually for "18 or 19 years," according to legal studies professor Michael O'Rourke, who has organized the event since its inception.
O'Rourke said his favorite thing about the event is seeing the excitement of students discussing it in class the following day.
Sandy Navarro, a second-year cyber security student, said she thought the forum was "fantastic" and appreciated how relatable the judges were.
"They really answered the questions where, as a student, it's applicable to what we're learning," Navarro said. "It was just very relatable. They covered topics that are current, but yet they were able to tie in other cases that we have studied and we could understand."
"It was interesting hearing about current issues from a perspective that actually matters," said Rebecca Brown, a second-year communication student. "It was informative."