Students register to vote during live concert in SUN
Campus Current held a voter registration drive and live concert in the SUN Dining Hall today.
Students could register to vote, listen to live music and pick up copies of Campus Current from 11:30 a.m. to 1 p.m.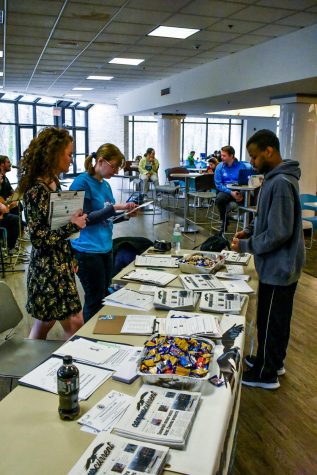 "I'm registered to vote already," said first-year transfer studies student Sarah Reshetiloff. "If you don't put in your vote and opinion in, the bad side of government will overpower."
Two members of The Vibesmen, a reggae-rock band including AACC alumnus Jesse Johnson, performed acoustic covers.
"The band was great," said fifth-year information systems student David Hanningan. "I didn't even realize students could put on an event like this."
Daniel Salomon, Campus Current's digital editor, performed under his stage name "The Mute."
"There were technical issues with my music, so The Vibesmen offered to do music in the background," Salomon said. "I gave them a tempo and we just winged it."
"It's a good cause, and I think people need to exercise their right to vote for it to mean anything," Salomon added.
Roxanne Ready, the paper's editor-in-chief, was the leading force in putting on the event.
"In any democracy and republic, strength rests on the public," said history professor Richard Hardesty, who attended the drive. "A lot of 'the public' is students. Students should be active, and one way to be active is to vote."
Ready said this was the first of two events this week designed to "promote civic engagement" among students. Tomorrow, the paper is hosting a debate between the two SGA presidential candidates at 1 p.m. in the Kauffman Theater.