College hosts month of discussions, information sessions about immigration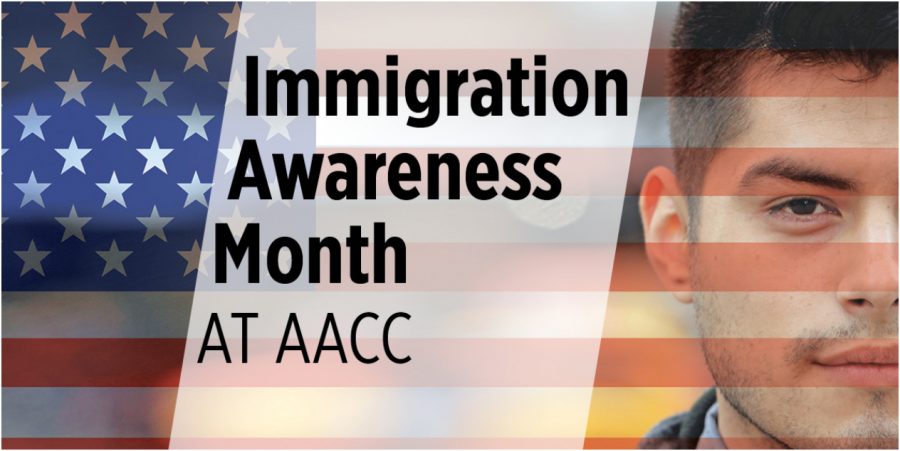 Throughout the month, AACC students can attend movies, lectures and free legal advice sessions about immigration in the U.S.
"We just want to put a human face on some of these immigration stories," Adil Qaiyumi, a homeland security professor and one of the professors who organized the events, said. "Especially the last few years with all the rhetoric surrounding immigration … [this event is] just kind of highlighting the fact that this country is founded on immigration."
Qaiyumi and professor Anika Ingram, both practicing immigration attorneys, first set up Immigration Awareness Month at AACC four years ago, Qaiyumi said.
"The other thing about Immigration Awareness Month is just being able to open up dialogue no matter what your feelings are on immigration," Ingram added.
This year, Dr. Deidra Dennie, the college's chief diversity officer, also co-sponsored the event.
Film Screening and Discussion
The college on April 3 hosted a screening of a documentary about a gay man who came to the U.S. illegally.
"Forbidden: Undocumented and Queer in Rural America," follows the story of an immigrant who grew up in rural North Carolina.
After the movie, attendees discussed the film and their personal stories related to immigration.
Ask an Immigration Attorney Night
Students and community members can talk with immigration attorneys and receive free legal advice the evening of Wednesday, April 11.
Qaiyumi said out of all the events this month, he is most excited about this one because free legal consultations with practicing attorneys are rare.
English-, Spanish-, Arabic- and Urdu-speaking attorneys will offer the free 20-minute consultations on a first-come, first-served basis on April 11 between 6:30 and 9:00 p.m. in CALT 100.
International Rescue Committee Humanitarian Information Session
A spokesperson for an international organization will speak with attendees on Tuesday, April 17 about how to help refugees in the local area.
Among other things, the International Rescue Committee helps pair refugees from war-torn areas with local mentors across the U.S. to help them rebuild their lives here.
"There's a direct impact you can have with these individuals," Ingram said. "It's great to give money to [causes] … but [mentorship is] not just money, it's time."
Two mentees will also be at the event to answer audience questions about what mentoring means on a day-to-day level, according to Qaiyumi.
The event will take place on April 17 in CALT 100 from 9:30-10:45 a.m.
Immigration Heritage Day
Attendees can enjoy an international lunch and hear a diverse series of stories from immigrants to the U.S. on Thursday, April 26.
Also at the event, AACC's Criminal Justice Association will distribute Immigrant Rights information sheets, according to the event's promotional poster.
The event will be on April 26 from 11 a.m. to 1:45 p.m. in CALT 100.