Students compete in business pitch competition
High school students from around the country came to AACC Wednesday to pitch their business ideas for a $1,000 prize and the chance to compete for an even larger award.
For the third year, the Diamond Challenge, an international business pitch competition for high schoolers, held a round of live pitches at AACC, one of many across the country.
The students started their day of pitching at 8:30 a.m. as 19 teams of 1-4 students each made a five-minute presentation before three-person panels of AACC faculty, staff and alumni. Their ideas ranged from soft Legos made of silicone to social networking applications.
The four finalist teams made their pitches again before a panel of four new judges and an audience in the Kaufman Theater.
Judges chose two teams to win the $1,000 and move on to the semifinal round in April: Immunologic Computing from College Park High School in Texas and AssemBuild from Greencastle-Antrim High School in Pennsylvania.
Immunologic Computing's winning pitch was for a company that would store and analyze patients' medical information for doctors' use in researching, diagnosing and treating auto-immune diseases. All three members—Andrew Yu, Yashas Salankimatt and Shobha Dasari—are high school juniors.
"Autoimmune diseases are notoriously difficult to diagnose and are extremely expensive to treat," Yu said during the presentation. "But we believe we can solve this problem."
Yu said he has "always wanted" to create a startup in the health care industry, and Dasari's own autoimmune disorder helped the team choose which medical problem to attempt to solve.
AssemBuild—also a three-person team, made up of junior Clare Hudak, and seniors Matthew Lynerd and Collin Griffin—pitched a web-based home improvement software that would allow customers to create mockups of their ideas and generate materials lists for a fee.
Their goal, Lynerd said during the presentation, is to eliminate "countless trips to the hardware store" during a do-it-yourself renovation project.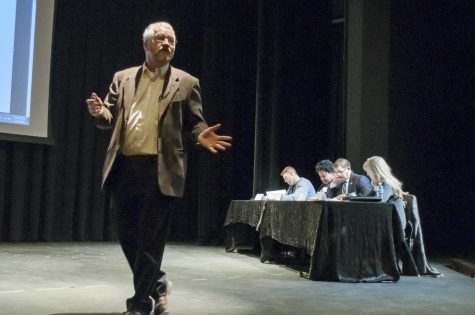 The team started with "a whiteboard full of ideas," according to Hudak, but settled on a home renovation concept because all three members have experience with it.
Members of both teams said the contest was tiring, especially due to the travel, but rewarding.
"Even on two hours of sleep, it was [fun]," Yu said.
Stephen Berry—an instructional specialist at AACC's School of Business and Law and coordinator of the competition at the college—said the Diamond Challenge organizers reached out to him for the 2016 competition to request that the college get involved with the program.
"It's a great program," Berry said, adding that competing with high school students from around the world is "an incredible experience for them. … [And] it's one way we're reaching out to the local high schools."
The semifinal and final rounds of the pitch competition will be part of the Diamond Challenge Youth Entrepreneurship Summit in April, a three-day conference for young entrepreneurs at the University of Delaware.
Members of both winning teams said they plan to move on to the next round to compete for $10,000 to use toward starting their businesses.
A previous version of this article incorrectly said Salankimatt had an autoimmune disorder. Dasari has the disorder, not Salankimatt.