College promotes civil discourse on campus
College promotes discussion
AACC is promoting free speech and understanding on campus.
The administration is encouraging civil discourse—allowing students to respectfully express their opinions and differences. According to AACC President Dawn Lindsay, the goal is to create an environment where it's safe to have differences of opinion.
"Civil discourse talks about valuing and respecting these differences," Lindsay said in an interview with Campus Current.
The violence in Charlottesville and elsewhere over the summer has led students to want to speak out on politically sensitive issues, like racism. Campus Current, for example, received four opinion pieces this month from students on this topic, twice as many opinions as last month.
Lindsay said she hopes students feel they can express themselves, without the need to resort to hate speech.
"I have the right to my opinion; you have the right to your opinion," Lindsay said. "We are never all going to agree on the same issue, but it … doesn't mean that I have the right to abuse you, be hostile toward you or be disrespectful to you. … True civil discourse and true freedom of speech require people to be respectful."
Diversity on campus is a main focus of the college's, she said. In fact, AACC was the first community college in Maryland to hire a chief diversity officer three years ago. The school's second chief diversity officer, Dr. Deidra Dennie, started her new job on Sept. 25.
In response to the events in Charlottesville, the Division of Learning held a "Rise Above Hate" vigil on Sept. 7, featuring a diverse group of speakers who encouraged an audience of about 50 to engage in civil, rather than hostile, conversations about controversy.
The Pascal Gallery outside the Kauffman Theater was full of posters during half of September, allowing students to use their words to express their thoughts on political and civil problems.
The exhibit started after a faculty member hung a similar poster near the Martin Luther King statue on West Campus without permission and officials removed it.
The vigil and the exhibit, Lindsay said, were meant to help students respect others' viewpoints without disrespecting the person. People must become "familiar with the unfamiliar," Lindsay said.
Lindsay also said the college is "looking at our hiring practices" and "making sure that we're moving in the direction that our workforce reflects [our] student [body]."
In interviews with Campus Current, most students said freedom of speech is important to them.
"Everyone has a right to voice their own opinion," said Trent Randol, a sophomore English major.
Sophomore animation major Nick Potts agreed. "We shouldn't be avoiding [the free speech issue]," he said.
Randol said he feels free to express himself on campus.
Lindsay said she wants AACC to be a "model" campus when it comes to allowing students their right to free speech.
"I want people to say, 'Look at AACC because they're doing it and they're tackling it,'" she said. "I'm very, very excited."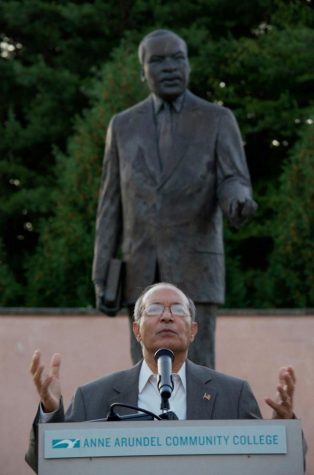 Photo by Brandon Hamilton