Pell Grants, hate speech, workforce development among topics addressed by Rep. Brown at town hall
At a town hall held at AACC on Saturday, U.S. Rep. Anthony Brown pledged to continue working to protect and expand Pell Grants, which he said are "under assault."
He also discussed separate bills to reduce hate speech on college campuses and to incentivize businesses to provide workforce development.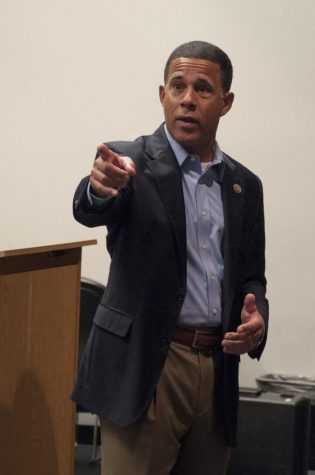 Brown said he will continue to "work" the president and secretary of education—who he called "a tough one"—to expand the Pell Grant program.
At the same meeting, Brown discussed an upcoming bill he said he hopes will help decrease instances of hate speech on college campuses, a problem which he said is happening "all over the place." He said he hopes to introduce this bill within the next two weeks.
"We get that there's freedom of expression and freedom of speech," Brown said. "But there is also a responsibility of universities to be very clear with their student bodies when that speech goes into unprotected speech. Speech that foments violence is not protected speech in this country."
The bill, he said, will require colleges as part of their accreditation to demonstrate procedures that educate students on what speech is unprotected and what the penalties are at both an institutional and governmental level.
Brown also discussed plans to introduce a bill late this year which will "incentivize" private sector businesses to form workforce development relationships with community colleges, high schools and other not-for-profit institutions.
"Not every high school student is going on to that four-year, bachelor-rewarding institution, but they need something more than a high school diploma," Brown said. "[Workforce development projects are] not happening at the rate that's meeting the needs of our graduating high school students."
In order to pass into law, bills must first be voted on in a committee. They then pass to the main House of Representatives for a vote. If a bill passes the House, it moves to the Senate for the same process. Finally, the sitting U.S. president must sign the bill into law.
The town hall was held in the Florestano building and lasted from 10 a.m. until almost noon. After the meeting, Brown remained for a few more minutes in the lobby to talk with constituents.
Yesterday, the congressman visited AACC as part of a tour of his district.