Students and staff speak at Soapbox Sisters event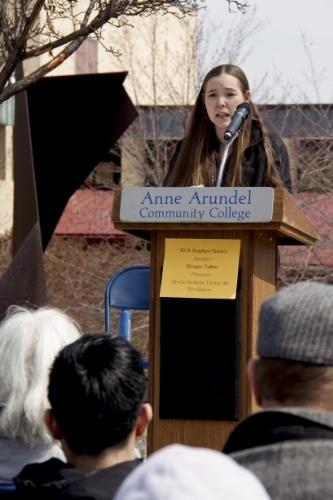 Tre Mooring, Campus Life Editor
April 4, 2017
Thursday March 30, students and faculty delivered speeches in this year's Soapbox Sisters event.
The event started with a welcome from Dr. April Copes, a communications professor and co-director, followed by the first introduction by Madeline McArdle, co-director and MC for the event.
McArdle a second-year transfer studies major, who participated last year said "It was a cool experience…it was totally worth it, it was really fun."
Lynne Edwards-Tucker, an AACC cashier supervisor and participant said, "I was nervous but it was great, because of when I was born this was real, this was real to me." She continued "so it meant something to me…these are a phenomenal group of women, so it made it easy to overcome your fears."
Edwards-Tucker, gave the first speech with Sojourner Truth's "Ain't I a woman?" speech.
When asked if the event had inspired him, Sam Proctor, a first-year psychology major said, "I would say it has, you know I think a lot of us think of feminism as a modern phenomenon, and I think this really showed that it wasn't this is something that has been boiling over for centuries now."
Participants gave dramatic readings on stage in a packed auditorium with standing room only.