Coffee vending to get upgrade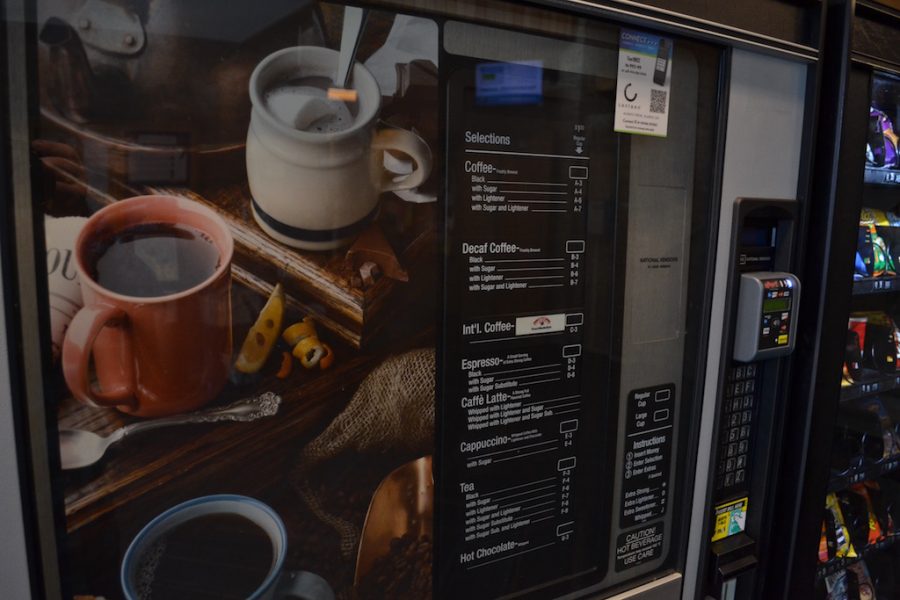 Trevor Gardner, Reporter
February 28, 2017
AACC students are complaining that they are dissatisfied with the college's coffee vending machines.
Auxiliary Services Director Steve Pegg said he forwards complaints about the dispensers to the machine contractors, PepsiCo and Canteen Vending Services. The vending companies respond to the complaints, he said.
"We don't want unhappy customers; we bend over backwards for our customers," Pegg said.
First-year student Hannah Nichols said when she tried to get "hot chocolate, it was just water, hot water."
Other students have similar problems when interacting with the coffee machines.
"One time, my friend tried to get coffee and it was straight creamer," said Dallas Coleman, a music performance major. "It's not very good coffee, either, to be honest."
Upgrades to the campus vending machines are upcoming, Pegg said. Pegg met with Compass Group, the owner of Canteen, to begin machine upgrades and replacements, which will include a new coffee machine in the Humanities building, he said.
If a coffee machine malfunctions and does not return the customer's money, the student can go to the Hawk's Nest in the Student Union to get a full refund, Pegg confirmed to Campus Current.
"I deal with vending on a daily basis," Pegg said.
Coffee sales from the machines have gone down because of a smaller student body and the introduction of Chick-fil-A and Subway, which also sell coffee.
Pegg, however, does not mind the drop in sales, and said he wants students to have options.
The campus has $500,000 worth of vending machines, including nine coffee dispensing machines, each worth $8,000 to $10,000, Pegg said.
The machines that dispense unflavored coffee are in the Johnson, Florestano and CALT buildings, and in Annex A.
The machines that dispense flavored coffee are located in the CADE, Careers and Humanities buildings, and also in the library.
The coffee dispensers and other vending machines are refilled and cleaned by the contractors once a week, Pegg said.
Hot chocolate and tea are also dispensed in the beverage machines.
Other vending machines located on the Arnold, Glen Burnie Town Center and Arundel Mills campuses serve cold beverages, fruit, assorted snacks and ice cream.